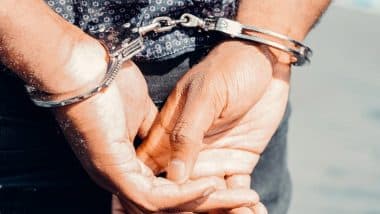 Arrested (Photo Credits File)
New Delhi: The Border Security Force (BSF) got a big success on Sunday. The jawans have arrested a smuggler with 8 lakh Bangladeshi taka. This action was taken in North 24 Parganas district on the India-Bangladesh border. The smuggler was smuggling the seized notes from Bangladesh to India. This information has been given by BSF.
BSF said that acting on specific information, the alert jawans of Ghojadanga, the border post of South Bengal Frontier, busted a currency smuggling racket. In this, after arresting a smuggler, 8 lakh Bangladeshi currency has been recovered from him. This major operation has been carried out by the soldiers of the 153rd Corps of BSF. PM Modi gave mantra of 'social engineering' for BJP's success beyond 2024, said- bring all communities together
BSF said that the arrested smuggler has been identified as Anisur Molla (31), District North 24 Parganas. Initial inquiries revealed that the smuggler was smuggling these foreign currency from Bangladesh to India. Further investigation is going on. At present, the arrested smuggler and seized foreign currency have been handed over to Basirhat police station for further legal action.
india bangladesh border bsf arrests smuggler with 8 lakh bangladeshi taka