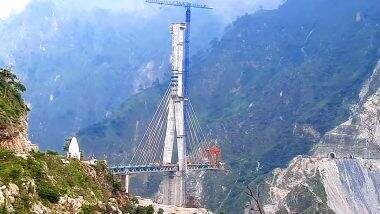 Anji Khad Bridge (Photo Credits WC)
India First Cable Rail Bridge: The country is going to get its first cable rail bridge soon. It is being constructed on the Anji river of Jammu and Kashmir. According to the Railways, by the end of this year, the construction of Anji Khad bridge will be completed. This bridge is a wonderful piece of engineering, the construction work of which is in its final stage. This bridge will serve to connect Katra with Reasi. Located in Reasi district over the Anji River, the bridge is a part of the challenging Udhampur-Srinagar-Baramulla rail link, where the train passes through the Himalayas at high altitude.
The Ministry of Railways tweeted on Saturday, "Anji Khad Bridge: A reflection of New India's constant quest to reach new heights. According to the railways, the length of this bridge is 473.25 meters, which is built at a height of about 331 meters from the river bed. While making the bridge, it has been kept in mind that it can deal with heavy storms. It has been supported by 96 cables. Extremely advanced technology is being used in its making.
The responsibility of building this bridge has been entrusted to Konkan Railway Corporation. Konkan Railway Corporation Limited is developing the Udhampur-Srinagar-Baramulla rail link project. The geology of the place where this bridge is built is quite complex. In such a situation, it has been constructed between highly broken and combined rocks. According to the information, it has cost about 28000 crore rupees to make it.
This is such a complex area, where it is almost impossible to construct an arch bridge similar to the one being built across the Chenab river. The Anji Khad bridge is designed keeping in mind the slope. Being built with the help of unique, advanced technology and equipment, this bridge includes the use of pump concreting system.
jammu kashmir countrys first cable rail bridge will be built on anji khad bridge