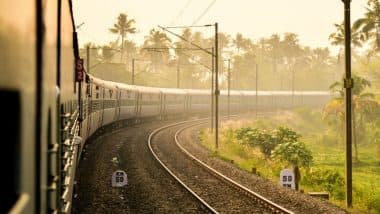 Indian Railways Earning Rise: The Indian Railways, which was once described as a loss-making business, today it is making a significant contribution to the country's economy by earning a lot. In fact, Indian Railways has earned Rs 42,370 crore more revenue in the current financial year so far as compared to the previous financial year. Indian Railways Data Breach: Railway data leak! Know how many names and numbers of crores of users are being sold on the Dark Web
Railway Minister gave information
This information has been given by Railway Minister Ashwini Vaishnav. In this regard, he has said that Indian Railways has so far collected Rs 42,370 crore more revenue than the revenue mark achieved in the last financial year.
Earned revenue of Rs 1,91,128 crore in the financial year 2021-22
He also said, Indian Railways has earned a total revenue of one lakh 91 thousand 128 crores in the financial year 2021-22. Expressing happiness over the achievement, the Railway Minister said that this achievement has been achieved 71 days before the completion of the current financial year 2022-23.
It is notable that today Indian Railways is engaged in rejuvenating all those parts of the country along with itself which were left behind. The areas of the country where connectivity could not be established are being connected through railways.
Giving new dimensions to the pace of development in the country
All such works have been done through Indian Railways. Better and better facilities are being provided to the passengers through Indian Railways. In this way Indian Railways is giving new dimensions to the pace of development in the country. This is the reason that today Indian Railways has come in a position to earn profit.
It is noteworthy that the National Rail Plan (NRP) 2030 has been prepared in order to meet the traffic requirements till the year 2050 so that the infrastructure can be developed by 2030. With this, the earnings of the Railways will increase further.
Station Development and Modernization
Apart from this, Indian Railways has also done a lot of work on the development and modernization of its stations. Under this, many railway stations have been rejuvenated and the work of rejuvenation of many stations is going on like Gandhinagar, Habibganj and Ayodhya etc. Railways is adopting the partnership approach for station development and Request for Qualification for New Delhi, Chhatrapati Shivaji Mumbai Terminal, Nagpur, Gwalior, Sabarmati, Amritsar, Puducherry, Nellore, Dehradun and Tirupati stations on Public Private Partnership (PPP) mode (RFQ) invited. Apart from this, the Railways has introduced bio-toilets in 100% coaches, mandatory mechanized cleaning at 953 stations, handed over 57 Made in India, 12000 HP electric locomotives, installed solar power plants on the roofs of 960 railway buildings, installed wind power plants at stations Did unprecedented things like providing Wi-Fi facility.
On mission mode to become "Green Railway" by 2030
At the same time, Indian Railways is working on the mission mode of becoming a "Green Railway" by 2030. In this direction, the Ministry of Railways has taken several major initiatives to combat global warming and climate change, with a target of making Indian Railways fully green by 2030. Railway electrification, achieving green certification for fixed equipment and installations/stations with improving energy efficiency of locomotives and trains, bio-toilets in coaches and reliance on renewable sources for its energy needs and achieving zero carbon emissions. Part of the strategy.
bumper increase in earnings of indian railways rs 42370 crore more revenue