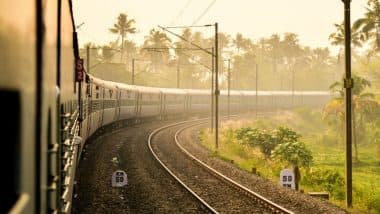 Indian Railways has achieved a major milestone in coach production in the country. In fact Indian Railways has registered an unprecedented growth of 91.6% in rail coach production in the last eight years. It is being described as the best example of 'Make in India' initiative. Not only this, even PM Modi himself has praised it. Indian Railways Data Breach: Railway data leak! Know how many names and numbers of crores of users are being sold on the Dark Web
PM Modi appreciated
In tweeting, PM Modi has praised Indian Railways for new heights in coach production. PM Modi has lauded the Indian Railways for achieving new heights in coach production in the last eight years. On a tweet by Indian Railways, PM Modi said that the excellent trend of Indian Railways reflects the strength and skill of 130 crore Indians as well as their resolve to become self-reliant.
7 thousand 151 coaches were manufactured in 2021-22
It is noteworthy that Indian Railways has registered an impressive growth of more than 91.6 percent in terms of coach production in the last 8 years under the Make in India initiative. A total of 3 thousand 731 coaches were manufactured in 2014-15. In 2021-22, this figure reached 7 thousand 151.
The resolve to become self-reliant is getting strengthened
Indian Railways has given such a boost to the coach production in the country that the nation's resolve to become self-reliant is getting strengthened everyday. Today India is manufacturing rail coaches not only for itself but also for other countries of the world. Due to this, the country's economy is also getting a lot of benefits. Not only this, Indian Railways is also doing the important work of upgrading the old railway coaches with time.
Production Units of Indian Railways
Would like to inform that Indian Railways manufactures all its equipment completely independently. The production units of Indian Railways include Integral Coach Factory (ISF), Chennai, Rail Coach Factory (RCF) at Kapurthala, Modern Coach Factory (MCF) at Rae Bareli, Chittaranjan Locomotive Works (CLW) at Chittaranjan, Banaras Locomotive Works (BLW) at Varanasi , Patiala Locomotive Works (PLW) at Patiala, Rail Wheel Factory (RWF) at Bengaluru and Rail Wheel Plant at Bela have achieved excellent record production.
Railway production continued even during Kovid
Similarly, all the production units of the Railways are performing excellently. They are supplying to Indian Railways to meet its growing requirements of locomotives and coaches. All production units continue to receive investments for modernization in the form of latest M&P, sheds and facilities. Even during Covid, railway production continued. In this, rail production units continued to support the railway sector by producing coaches following the prescribed norms for Covid.
Coach Manufacturing Units
Let me tell you, ICF, RCF and MCF are the coach manufacturing units which are making Vande Bharat, LHB, EMU, MEMU, Vistadome and other state-of-the-art coaches. The credit goes to ICF which designed and built the first indigenous trainset in just 18 months. It is called T18. Two such trains are already running between Delhi-Varanasi and Delhi-Katra. Now total 7 Vande Bharat are running in the country. According to the vision of PM Modi, Indian Railways has resolved to start 75 Vande Bharat trains in the country, which it will complete at any cost.
locomotive manufacturing units
CLW, BLW and PLW are locomotive manufacturing units. Today they are manufacturing advanced electric locomotives ie WAG9 and WAP7. In addition, there are RWF and RWP wheels and wheels manufacturing units, which are supplying all types of engines and coaches. Rail Wheel Plant Belapur and Rail Wheel Factory Yehlanka together produced 92,118 wheels in this financial year 2022-23 (up to August), which is 6.5 times more than the wheels produced during the same period of 2021-22. Similarly, the production of rail axles also increased by 7 percent. Today, Railways is setting its further development journey by registering an impressive growth of more than 91.6 percent in terms of coach production in the last 8 years. The Government of India has an ambitious plan to take the freight market share of Railways to 40 per cent from the current 28 per cent in the next 10 years.
indian railways coach production becomes big testimony of make in india initiative