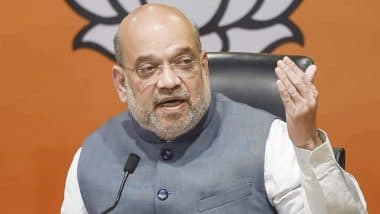 Amit Shah (Photo Credits PTI)
Jammu: Union Home Minister Amit Shah on Friday spoke to the families of the victims of the terrorist attacks in Rajouri over phone and appreciated their fortitude in facing the crisis. Although Shah intended to meet the families in Dhangri village in person, this could not happen due to inclement weather and he spoke to them over the phone. The Home Minister arrived here on Friday and reviewed the security situation in Jammu and Kashmir at a high-level meeting.
Shah said, "I have come here to meet the victims of the terrorist attack in Rajouri and share their grief. I could not visit the village due to bad weather, but I have spoken to the members of all the seven victims' families on phone. Tamil Compulsory For Govt Jobs: Tamil language is now mandatory for government jobs in Tamil Nadu, bill passed in assembly
Shah was accompanied by Lieutenant Governor of Jammu and Kashmir Manoj Sinha. "Their courage is an example for the country and they all believed that this is our territory and we will not leave it (in view of the terror threat)," the home minister said.
Shah said that some families had come from Pakistan-occupied Kashmir and they are ready to face the terrorists despite such a big incident. The families of the victims of the terrorist attack said that the Union Home Minister has assured them that strict action will be taken against those involved in these attacks.
Saroj Bala, who lost two sons in the terrorist attack, said, "The Home Minister spoke to me over phone. I requested him to catch the killers of my sons and ensure that they get the harshest punishment. He assured me that he would be nabbed soon.
Significantly, on January 1, five people were killed in the firing of terrorists in Dhangari village of Rajouri, while two children were killed in an 'IED' blast the next day.
(This is an unedited and auto-generated story from a syndicated news feed, likely not the latest staff changes or edits)
home minister amit shah spoke to the families of rajouri terror attack victims over phoner