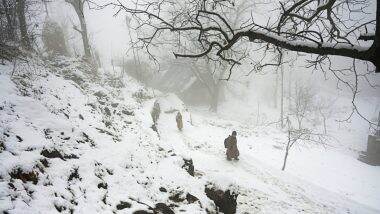 Winter in Kashmir Valley (Photo Credits: Twitter)
Srinagar, January 16: Night temperatures dropped in most parts of Kashmir as the weather remained dry in the region. Officials gave this information on Monday. Officials said the dry weather brought down the minimum temperature at most places in the Valley on Sunday night. The minimum temperature in Srinagar was minus 1.9 degrees Celsius on Sunday night, down from minus 0.6 degrees Celsius the previous night, they said. . Weather Update: Northwest India in the grip of severe cold, the temperature may fall further in the next two days.
Qazigund, the gateway to the valley, recorded a drop of nearly five notches in the minimum temperature, which settled at minus 5.6 degrees Celsius. Kokernag in south Kashmir recorded a minimum temperature of minus 6.6 degrees Celsius, while it was minus 1.4 degrees Celsius the previous night.
Officials said that the minimum temperature in the border district of Kupwara was minus 2.9 degrees Celsius. Pahalgam in Anantnag district recorded a minimum temperature of minus 10.2 degrees Celsius. Pahalgam also serves as the base camp for the annual Amarnath Yatra.
The famous ski-resort Gulmarg in Baramulla district recorded a minimum temperature of minus 12 degrees Celsius on Sunday night as against minus 10.4 degrees Celsius the previous night. This resort was the coldest recorded place in Jammu and Kashmir.
The Meteorological Office said that till January 18, the weather in Jammu and Kashmir will be mainly dry. By that time the night temperature will further decrease. It said that some western disturbance is likely to affect Jammu and Kashmir from January 19 to 25.
From January 19-21, the weather will remain cloudy and light rain/snow is likely at isolated places mainly in the higher reaches. However, it said that from the night of January 22 to the forenoon of January 24, there would be very heavy rain and light to moderate snowfall in the plains of Kashmir (with rain in Jammu) and moderate snowfall in the middle and higher altitudes. .
Kashmir is currently in the grip of 'Chillai Kalan'. The chances of snowfall are high in this 40 days harshest weather period. Chillai Kalan begins on 21 December and ends on 30 January. Even after this the cold wave continues and after that 20 days long 'Chillai Khurd' and 10 days long 'Chillai Bachha' continue.
(This is an unedited and auto-generated story from a syndicated news feed, likely not the latest staff changes or edits)
minimum temperature drops at most places in kashmir