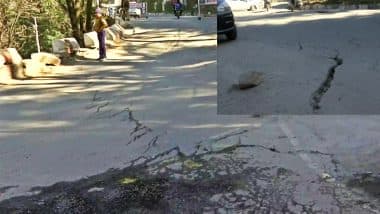 Joshimath Sinking (Photo: ANI)
Joshimath, January 19: The situation is now becoming extremely serious due to the ever-increasing landslides in Joshimath. The scientists who came here to investigate are also not safe now. The GMVN guest house where the scientists stayed has developed cracks. This guest house has also come under the threat of landslide. Scientists and officers coming for investigation in Joshimath were accommodated in the VIP guest house of GMVN near Gandhi Maidan.
As soon as the crack was seen in the building on Wednesday, the employees informed the District Tourism Officer of Chamoli. There were slight cracks in the walls of 5 rooms of room number 204 to 208 on the first floor of the guest house, which have now increased further. These cracks have emerged more on the walls of rooms and offices. Also, at some places on the lower floor, the tiles have also started getting uprooted. After which now these 5 deluxe rooms of the guest house have become unsafe in which it will not be right for tourists to stay. And soon this building is also likely to be declared unsafe. Also read: Joshimath Sinking: Water samples from Jaypee Colony, NTPC project site separate
Fine cracks are also visible in the Sanskrit College buildings built as relief camps. 23 families have been kept here. The affected Pradeep living here says that there are old cracks here. Such cracks are visible all over the city. Apart from this, cracks have also appeared in the buildings behind the police station in the city. It is being told that cracks have come here recently. A policeman told that there is a big pit behind the police station. And in two days the cracks have increased a lot here. After starting the demolition of the hotels, now preparations have started to demolish the residential buildings. Meanwhile, eight more families were taken to relief camps on Wednesday. So far 258 families have been shifted for safety.
Chamoli DM Himanshu Khurana told that the process of demolition of five buildings has been started. This includes Hotel Mount View, Malari Inn and the buildings of the Public Works Department. Orders have been issued to demolish the buildings in a scientific manner. According to the daily report released by District Disaster Management Authority Chamoli regarding landslide, 849 buildings have been affected in 9 wards of Joshimath town area. Out of this, there are 181 buildings which have been kept under unsafe zone. So far, 865 people belonging to 258 families have been temporarily shifted to various safe places by the district administration from the point of view of security. As part of the relief work, the district administration has so far distributed Rs 327.77 lakh to 500 affected families.
So far 708 food kits, 531 blankets and 926 liters of milk, 55 heaters/blowers, 79 daily use kits, 48 ​​pairs of shoes, 110 thermal wear, 171 hot water bottles, 458 caps, 280 socks, 149 shawls and 262 other materials have been provided to the affected. has been distributed as relief material. Apart from this, health check-up of the affected people is being done continuously by the Health Department, under which health check-up of more than 707 people living in relief camps has been done. Health checkup of 51 animals and distribution of 50 animal fodder bags were done in the affected areas.
joshimath sinking cracks also appeared in gmvn guest house of joshimath where scientists are staying