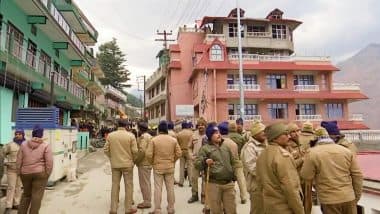 Joshimath (Photo: ANI)
New Delhi, January 13: Joshimath has army helipad, hospital, local head quarter, many units, a large number of soldiers and more than 3 dozen buildings and buildings. Due to the disaster in Joshimath, army buildings have been damaged here. Meanwhile, the army has clarified that it still has no problem in reaching the forward post from Joshimath. If necessary, these army units can also be sent to Auli in Uttarakhand on a permanent basis. Also read: Joshimath Sinking: State government should make a strong plan for Joshimath: Uttarakhand High Court
Significantly, above Auli Joshimath, there is Indian territory near the India-China international border. Recently, the armies of India and America had conducted a joint military exercise here, on which China had expressed its objection.
cracks in many army buildings
25-28 buildings (of Army) have developed minor cracks and the soldiers have been temporarily relocated. If needed they will be permanently relocated to Auli: General Manoj Pande on #joshimath land subsidence issue pic.twitter.com/mBKvbulccG

— ANI (@ANI) January 12, 2023
The disaster in Joshimath has also affected the army units stationed here. Army Chief General Manoj Pandey said that there has been some damage to the roads leading from Joshimath, but this has not adversely affected the access of the Indian Army to the forward area. According to the army chief, a temporary hold has been placed on the bypass road. The army chief says that there has been no adverse effect on the army's access to this most forward area area. There is no damage to our main access moving ahead from Joshimath. There has been no major impact on these routes of the army going to the border area.
Although the military bases located in Joshimath have been damaged during this disaster. Indian Army Chief General Manoj Pandey confirmed this and told that cracks have appeared in his buildings located in Joshimath. Army Chief General Pandey told that 28 army buildings have been damaged in Joshimath. Cracks have been found in all these army buildings. As a result, the army personnel stationed there had to be temporarily sent to other places.
The army chief says that if needed, a plan has been made to send the army stationed in Joshimath above Joshimath. The Army Chief said that if required, these army units can be sent permanently to Auli in Uttarakhand. Significantly, Auli is Indian territory near the international border above Joshimath. On the condition of the roads in Joshimath, the army chief said that according to my knowledge small cracks have been found on the roads considered beyond Joshimath. Significantly, 'Mana' is the last village of India and ahead of it is the international border. According to the army chief, the Border Roads Organization has succeeded in repairing these damaged roads and work is still going on at some places.
There is an army hospital, helipad and other buildings in Joshimath. The army chief says that if the need arises, he can provide this building to the civilian as a shelter. Along with this, the army chief says that the army is fully prepared to take part in relief and rescue operations if required.
joshimath sinking army may shift from joshimath to auli no problem in reaching forward post army chief