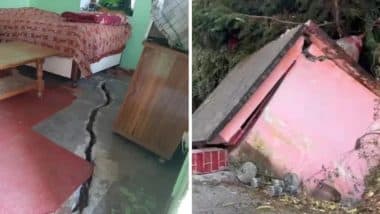 Joshimath (Photo Credits: PTI)
Dehradun, January 9: A large number of people in Joshimath are not willing to leave their homes which have been declared unsafe due to land subsidence, while Uttarakhand Chief Secretary SS Sandhu said on Monday that every minute is important. Sandhu directed the people to be evacuated from the affected area immediately. The district administration has put a red mark on more than 200 unsafe houses. It has asked the people living in these houses to either move to temporary relief centers or shift to rented houses. For this, each family will get monthly assistance of Rs 4000 from the state government for the next six months.
According to a bulletin of the Disaster Management Authority, Chamoli, cracks were seen in 68 more houses in Joshimath on Monday, after which the number of houses affected by land subsidence has increased to 678, while 27 more families have been shifted to a safer place. It said that so far 82 families have been shifted to safer places in the town. Personnel of National Disaster Response Force and State Disaster Response Force have been deployed for relief and rescue efforts. Sandhu held a meeting with officials of the state secretariat to review the situation in Joshimath and asked them to expedite the work of evacuating people from their homes so that they are safe. Also read: Joshimath Sinking: Case of land subsidence in Joshimath reached Supreme Court, Jyotishapeeth filed petition
He said that the dilapidated houses which have developed cracks should be demolished immediately so that there is no more damage. The broken drinking water pipeline and sewer line should also be repaired immediately as these could complicate things further in the affected area, the official said.
Many families living in the affected area are unable to break their emotional attachment to their homes and do not want to leave them. Those who have reached temporary shelters are also reaching to see their empty houses which are in danger.
Parameshwari Devi, an elderly citizen of Marwari ward, one of the worst affected areas in the town, said she had spent all her savings to build her own house and now she is being asked to leave it and go to a relief camp. She told a private news channel, "I would rather die in the house that is mine than go anywhere else." Where else can I find peace like my own home. The story of Suraj Kaparwan, a resident of Manoharbagh, is also similar. His family has still not been able to take a decision to leave the house.
The house of Rishi Devi, a resident of Singhdhar, is slowly sinking in. She had to move to a safer place with her family, but she returns to her home everyday despite her family stopping her from doing so. Devi now sits there staring at the cracked walls of her house. Rama Devi's family was forced to sleep in the verandah of the house after cracks in the rooms and finally they left the house in panic. Lakshmi, who took shelter in a primary school building, said she wanted permanent rehabilitation. He said, "How long will we stay in this temporary relief camp.
The Congress said on Monday that the central government should declare the tragedy of land subsidence in Joshimath, Uttarakhand as a national disaster and the work of railways and other projects there should be allowed to go ahead in a phased manner only after proper study. The party's media and publicity chief Pawan Kheda alleged that the news of the Joshimath tragedy was already coming, but Prime Minister Narendra Modi and the 'double engine' government of Center and Uttarakhand woke up too late.
Congress President Mallikarjun Kharge tweeted, "Prakriti Rakshati Rakshitah. The whole country is worried about the unbridled 'development' that has created cracks in Joshimath, Uttarakhand's Devsthal by playing with nature and is with the people of Joshimath. He demanded the government to declare the Joshimath disaster as a 'national disaster', stop all new projects there, including railways and hydroelectricity, until a newly appointed high-level committee of experts, scientists, environmentalists and local people takes its stand. Do not report
Kharge said, "Instead of just ₹ 5000, the oustees of Joshimath should be given proper compensation from the PM Cares Fund." Former chief minister Harish Rawat also demanded that the compensation be increased to Rs 50,000 per victim and a 'new Joshimath' be built preserving the old town.
Meanwhile, the Supreme Court has asked a petitioner seeking intervention to declare the crisis caused by landslide in Joshimath as a national calamity, to mention it on Tuesday for the purpose of listing his appeal for urgent hearing. .
(This is an unedited and auto-generated story from a syndicated news feed, likely not the latest staff changes or edits)
joshimath many people are not ready to leave the house chief secretary said every minute is importantr