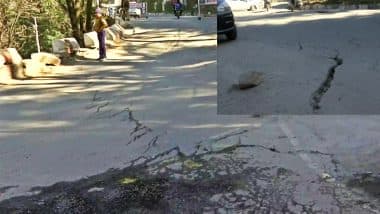 Joshimath Sinking (Photo: ANI)
New Delhi, January 13: State-owned National Thermal Power Corporation Limited (NTPC) has told the Ministry of Power that its project has no role in the subsidence of the region. He said that the 12 km long tunnel connected to the Tapovan Vishnugarh hydroelectric project is one kilometer away from Joshimath town and is at least one kilometer below the ground. In Uttarakhand's Joshimath, hundreds of houses and buildings have developed cracks due to land subsidence. On January 10, the Union Ministry of Power had summoned NTPC officials to review the landslide incident in Joshimath. A day later, India's largest power producer company wrote a letter to the ministry clarifying its position.
He wrote that a head trace tunnel (HRT) connecting the water intake at the dam site to the powerhouse for the generation of the Tapovan Vishnugarh hydroelectric project "is not passing under the town of Joshimath". NTPC wrote in the letter, "The tunnel is at a horizontal distance of about 1.1 km from the outskirts of Joshimath city and is about 1.1 km below the ground level." NTPC said that the case of land subsidence in Joshimath is very old which was first noticed in 1976. NTPC appointed M.C. Quoting the Mishra Committee, the cracks and land subsidence were attributed to "hill wash, natural angle of inclination, cultivated area due to seepage and soil erosion". Also read: Joshimath Crisis: Dhami government's big announcement, electricity-water bill waived, money will be given for food and living, know where the new Joshimath will settle
The construction work of Tapovan Vishnugarh project (4×130 MW) started in November 2006. The project involves construction of a concrete barrage at Tapovan (15 km upstream of Joshimath town). The project was supposed to be completed by March 2013 but almost 10 years later it is still 'under construction'. NTPC said, "The tunneling in this section has been done through Tunnel Boring Machine (TBM), which does not disturb the surrounding rocks." NTPC also told the Ministry of Power that there has been no active construction work in the area for almost two years.
no role in land subsidence in joshimath ntpcr