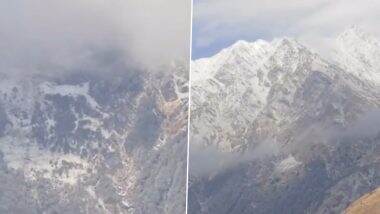 Snowfall in Joshimath (Photo: ANI)
Dehradun / Joshimath, January 19: The National Institute of Hydrology (NIH) reported on Wednesday that water samples taken from Jaypee Colony in Joshimath and NTPC's project site were found to be different, while the amount of water flowing due to the bursting of an unknown underground source in the colony has now come down to 100. Liter per minute is left. On the other hand, orders have been issued to demolish two private buildings in Joshimath along with the Public Works Department declared unsafe post bungalow. Quoting the preliminary report of NIH, Uttarakhand's Disaster Management Secretary Ranjit Kumar Sinha said that the 'profiles' of the water samples from the two places are different. He said, "However, this is only a preliminary report and no conclusion can be reached from it. NIH is currently conducting a detailed investigation, only after which a final conclusion can be reached in this regard.
The finding of separation of the two samples in the preliminary NIH report is significant amid allegations that NTPC's 520 MW Tapovan Vishnugad hydroelectric project is responsible for the Joshimath landslide and the continuous flow of water from an underground spring in Jaypee Colony since January 2. Sinha said that the discharge of water in JP Colony has come down to 100 liters per minute on Wednesday due to which the administration has heaved a sigh of relief. On January 6, the amount of water coming out there was recorded at 540 liters per minute. The official said that Chief Secretary Sukhbir Singh Sandhu held a meeting with the directors and scientists of various technical institutes working in Joshimath and urged them to provide their study reports as soon as possible with time boundness. He told that Sandhu has asked all the institutes to clearly state the problem as well as the solution in their reports and share them with each other so that ultimately there is no contradiction in them. Also read: MP: Robbers looted Rs 14.48 lakh from a businessman at gunpoint
Since the occurrence of landslide in Joshimath, institutes like Central Building Research Institute, National Geophysical Research Institute, Wadia Institute of Himalayan Geology, Geological Survey of India, Central Ground Water Board, Indian Institute of Remote Sensing and IIT Roorkee have been studying the city from various aspects. have been. All the institutes have said to give their preliminary report in two to three weeks. He informed that survey work is going on in the city and so far cracks have been found in 849 buildings out of which 181 buildings are located in unsafe areas. So far, 258 families have been temporarily displaced in view of security, whose number of members is 865. Meanwhile, Chamoli District Magistrate Himanshu Khurana has issued orders to demolish two private buildings along with the Public Works Department's post bungalow built near the main market in Joshimath on Wednesday.
According to the information provided by the Additional District Information Officer, five families lived in the two houses to be demolished and after the houses were declared unsafe, they have given written consent to demolish them. Apart from this, orders have also been given to demolish the post office of the Public Works Department built in 1976 in a scientific manner. Earlier, Hotel Mount View, Hotel Malari Inn were ordered to be demolished in a scientific manner under the supervision of Central Building Research Institute, the process of demolition is going on. On the other hand, Chief Minister Pushkar Singh Dhami met Union Home Minister Amit Shah in New Delhi, gave him detailed information about the situation arising out of landslide in Joshimath and requested central assistance for disaster relief. ,
joshimath landslide water samples from jp colony ntpc project site isolatedr