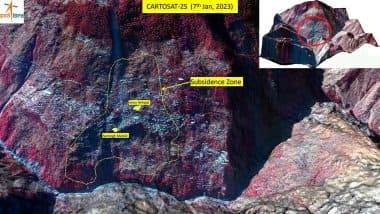 (Photo Credit: ISRO/NRSC)
Joshimath Satellite Images: For the last few days, information about land subsidence and cracks is being received in Joshimath. Cracks have appeared in more than 700 houses. Roads, hospitals, hotels are also cracking. A satellite picture of Joshimath has come, in which it is being told that which area is sinking. These pictures have been released by the National Remote Sensing Center of ISRO. Joshimath Sinking: Scientists from Hyderabad will find out the reasons for land subsidence in Joshimath.
ISRO's Hyderabad-based National Remote Sensing Center (NRSC) has released this report. The pictures have been taken from the Cartosat-2S satellite. Perhaps on the basis of this, the state government is taking people out of the danger zone. ISRO took pictures of Joshimath from 7 to 10 January 2023 from Cartosat-2S satellite.
ISRO took pictures of Joshimath from 7 to 10 January 2023 from Cartosat-2S satellite. After that processed with the technique mentioned above. Only then it was known that which area can sink. or is on the verge of collapse. Joshimath has a drainage system below the city, where there will be so much drainage, the soil will sink.
The yellow circled area is on the verge of collapse. Auli Road is also about to collapse. Rest of the lower part of Joshimath i.e. the base which is just above the Alaknanda river will also sink. Although this is the primary report of ISRO.

— Shubham Rai (@shubhamrai80) January 12, 2023
The Joshimath case was heard in the Delhi High Court. During this, the Uttarakhand government said in response that the state and the central government are keeping an eye on this issue. NDRF team has been deployed in Joshimath. More than 5000 people living in Joshimath have been shifted to a safer place. Uttarakhand government is alert in this matter. The hearing in this matter is to be held in the Supreme Court on January 16. By filing a petition in the Delhi High Court, a demand has been made to form a high level committee in the Joshimath case. Now there will be a hearing in this matter in February.
satellite photos of joshimath subsidence see which area is sinking in the pictures