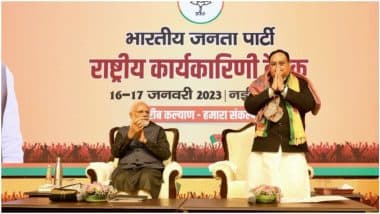 PM Modi and JP Nadda (Photo Credits BJP)
JP Nadda Gets Extension: In view of the preparations for the Lok Sabha elections to be held in the country in 2024, the presidential term of BJP's current national president JP Nadda has been extended till June 2024. Giving information about the decision taken in the BJP National Executive meeting, Union Home Minister Amit Shah said that in the meeting, Defense Minister Rajnath Singh proposed to extend the presidential term of JP Nadda till June 2024, which was unanimously passed by the executive meeting. gave. Also read: BJP President Election: There will be no election for the new President of BJP, JP Nadda will get extension
Amit Shah said that among all the political parties of the country, BJP is the most democratically run party. From the establishment of Jansangh till date, elections from booth to national president in BJP have always been held on time in accordance with the party constitution and in a democratic manner. He said that this year is also the year of membership drive. The process of membership in the party starts afresh every six years. But due to the Covid pandemic, the membership drive could not be done on time. In such a situation, it is not possible to elect the national president constitutionally. In the past too, the tenure of many national presidents of the party has been extended and following the same tradition, today the national executive unanimously decided to extend the presidential term of JP Nadda till June 2024.
The tenure of JP Nadda as national president of the Bharatiya Janata Party has been extended till June 2024: BJP leader and Union minister Amit Shah pic.twitter.com/lxS7glDL2K

— ANI (@ANI) January 17, 2023
Describing in detail about the victory of BJP in the elections under the leadership of JP Nadda and the organizational expansion of the party in various states of the country, Shah said that during the global crisis Kovid epidemic, BJP under his chairmanship from the booth level to the national level Helped people with the mantra of Seva Hi Sangathan.
Extending hearty wishes to Nadda for the future on behalf of the entire party, Shah claimed that under the leadership of Prime Minister Narendra Modi and the organizational leadership of JP Nadda, the BJP will get a bigger victory in the 2024 Lok Sabha elections than in 2019 and that Narendra Modi will continue to By becoming the Prime Minister of the country for the third time, he will again lead the country.
jp nadda gets extension to remain bjp chief for 2024 loksabha election