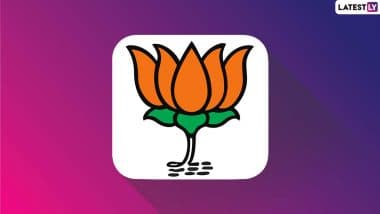 Bharatiya Janata Party (File Photo)
Bengaluru, January 14: In Karnataka, only two senior leaders of the ruling BJP clashed with each other, the MLA and the minister have started a war of words by accusing each other. BJP's Heavy Industries Minister Murugesh R. Nirani on Saturday warned party MLA Basanagouda Patil Yatnal that his tongue would be cut off if he continued to talk nonsense.
Earlier, MLA Basangouda Patil had called Minister Nirani a broker while talking about reservation quota for Panchamasali Lingayat sub-sect under OBC category. He had also said that he had no faith in Chief Minister Basavaraj Bommai, he had approached the party high command. Also read:Maharashtra: 13-year-old Devshree of Mumbai created world record for longest duration of touching nose with tongue
Minister Nirani said, he (Basangouda Patil Yatnal) had used the word 'dalal'. He belongs to that culture and uses the same language. People who are born to their father do not use such language. If he talks without meaning, his tongue will be cut off. Chief Minister Bommai has given instructions to remain silent. If he doesn't want to be in the party, let him protest outside.
Minister Nirani said- The people of Vijayapura, where he lives, will give him a befitting reply. The demand for reservation is not recent. CM Bommai has committed to give reservation to the Panchamasali sub-sect. The government had created 2C and 2D categories to accommodate the OBC quota. Despite all this, Basanagowda Patil is trying to blame Yatnal.
Condemning the protest organized by Basava Jayamrityunjaya Swamiji in this regard, he called it politically motivated. He said that the SC/ST and Vokkaliga communities have presented their arguments in a peaceful manner. MLA Basangouda Patil is embarrassing the government by issuing a statement.
karnataka minister told bjp mla on dalal statement i will get your tongue cut off