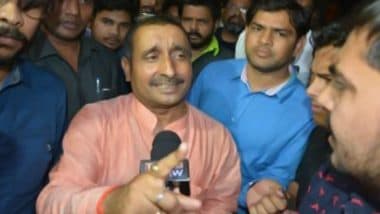 BJP MLA Kuldeep Singh Sengar (Photo Credits: IANS)
Kuldeep Sengar Interim Bail: The Delhi High Court on Monday granted interim bail to former Uttar Pradesh BJP MLA Kuldeep Singh Sengar, who was sentenced to life imprisonment for raping a minor girl in Unnao in 2017. A division bench of Justices Mukta Gupta and Poonam A. Bamba asked Sengar to report to the station in-charge concerned on a daily basis during his bail period and to furnish two sureties of Rs 1 lakh each.
Expressing concern, Justice Gupta also said that the wedding rituals of Sengar's daughter have been fixed for so many days and everything can be completed in a few days. In response, the lawyer representing Sengar said that he is the father and the dates for the ceremony are given by the priest. Also read: Unnao rape case: Truck and car collide near Rae Bareli, victim seriously injured
Two senior advocates N Hariharan and PK Dubey, appearing for Sengar, informed the court that Sengar is the only male member in the family, so he has to make all the preparations for the wedding to be held in Gorakhpur and Lucknow. Meanwhile, the counsel representing the Central Bureau of Investigation (CBI) said that the status report has been filed by the agency and it was found that two halls have been booked for the wedding rituals.
The High Court had issued notice on December 22, 2022 and directed the CBI to verify the facts of Sengar's bail plea and place a status report on record. Sengar had on December 19 sought interim bail from the court for two months to attend his daughter's wedding, which would begin on February 8, 2023, and the celebrations would begin on January 18.
Sengar's appeal is pending in the High Court against the trial court's order in the rape case, seeking to set aside the trial court's December 16, 2019 judgment, which convicted him, and the December 20, 2019 order, which sentenced him to life imprisonment for the rest of his life. He was sentenced to imprisonment till, has sought relief in that.
The trial court had convicted Sengar under various provisions of IPC including section 376(2) (rape committed by public servant) and also imposed an exemplary fine of Rs 25 lakh on him. The hearing began on August 5, 2019, after the Supreme Court on August 1 directed the transfer of all five cases related to the case from Unnao to Delhi. The top court had directed to conduct the hearing on a day-to-day basis and complete it within 45 days.
kuldeep sengar interim bail delhi hc grants interim bail to kuldeep sengar to attend daughters wedding