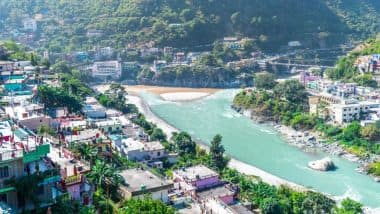 Karnaprayag (Photo Credit: Twitter)
Chamoli, January 12: After Joshimath in Chamoli district, clouds of danger are hovering over Karnprayag as well. Here too, after cracks appeared in the houses, the administration has ordered to vacate Bahuguna Nagar immediately. Joshimath Subsidence: Satellite photos of Joshimath surfaced for the first time, see which area is sinking in the pictures
Actually, the situation in Chamoli district is continuously getting worse. After Joshimath, cracks have appeared in many houses in Karnprayag. In such a situation, the administration has ordered to vacate Bahugunanagar of Karnprayag immediately. The administration has issued a notice to the people of Bahuguna Nagar to immediately shift to nearby rain shelters. So that there is no loss of life here too.
Let us tell you that the crack in the ground which started from Joshimath is increasing in scope. The situation has become such that a similar situation prevails in the surrounding areas of Joshimath as well. Cracks have also appeared in many houses in Karnprayag. Living in these houses is nothing short of dangerous. On January 11, the administration had inspected the houses in Karnprayag where cracks had appeared. Only after this, the administration ordered to temporarily shift the people living in Bahuguna Nagar to safer places.
Not only this, there have been cracks in some buildings in the Army Camp area in Joshimath, after which the army personnel living there have also been shifted to safer places. This information has been given by the army itself. At the same time, the weather has created the most difficult situation in Joshimath at this time. Because it is raining in Joshimath and surrounding areas since Thursday evening.
On the other hand, on January 12, after the cracks in Joshimath, the work of demolishing the buildings which are not fit for habitation has started. In the first phase, two big hotels of Joshimath are being demolished. After this other houses will be demolished.
danger of land subsidence in karnaprayag order to vacate bahuguna nagar immediately