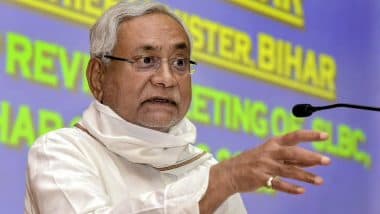 CM Nitish Kumar (Photo Credits: PTI)
Loksabha Election 2024: JDU national president Lalan Singh said on Tuesday that Bihar Chief Minister Nitish Kumar has all the capabilities of the Prime Minister, but he never claimed to be the prime ministerial candidate for the 2024 Lok Sabha elections. Have done. We have never claimed that Nitish Kumar is the prime ministerial candidate of the opposition parties in the 2024 Lok Sabha elections. The opposition parties will sit together to decide the leader. Our leader Nitish Kumar has only one objective to unite as many opposition parties as possible to challenge the BJP in the 2024 Lok Sabha elections and lead the country.
He said- After the formation of the Grand Alliance government in Bihar, Nitish Kumar went to other states and met leaders of opposition parties including Congress leader Rahul Gandhi and Sonia Gandhi. Responding to the Sudhakar Singh case, Lalan Singh said that it is an internal matter of RJD and its top leadership is capable of handling it. Also read: Bihar Politics: CM Nitish Kumar's big disclosure, said- broke the alliance with BJP on the advice of 2 people, know their names
On the statements of BJP leader Sushil Kumar Modi, he said that Sushil Modi is a big leader of his party. He is a bigot because the state wing of his party did not invite him when (BJP chief) JP Nadda came to Bihar. He was not invited to go on stage. He is making statements against Nitish Kumar to get a position in his party or at the Centre. On speaking against CM Nitish Kumar, his statement has fallen short of expectations.
bihar cm nitish kumar not pm candidate in lok sabha election 2024 jdu