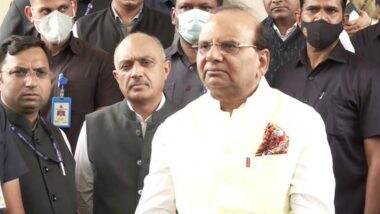 Vinai Kumar Saxena
New Delhi, January 10: Delhi Lieutenant Governor Vinay Kumar Saxena has 'refused' to give a "reasonable time" to Chief Minister Arvind Kejriwal for a meeting. Government sources gave this information on Tuesday. This development has happened at a time when there is already a situation of confrontation between the Aam Aadmi Party (AAP) government and the Lieutenant Governor on the issue of governance. There was no immediate response from the Lieutenant Governor's office on the claims of sources in the Delhi government.
On Monday, the Lieutenant Governor wrote a letter to Kejriwal inviting him to discuss issues related to governance. Kejriwal had accepted the invitation in a letter to Saxena, saying, "I will fix a suitable time from your office." A source said, "The Lieutenant Governor had invited the Chief Minister yesterday to discuss the current tussle over the powers of governance. But the Lt Governor's office refused to give proper time to the Chief Minister saying that the Lt Governor is very busy and cannot meet before Friday. Also read: 6-year-old innocent child fell in Borewell in Hapur, UP, NDRF team on the spot, rescue operation continues
Kejriwal questioned him over his appointment of presiding officers and 'aldermen' (nominated councillors) and members of the Haj Committee in the Municipal Corporation of Delhi (MCD) and said that his role as the "administrator" of Delhi was being undermined. What does it mean to "sideline" the elected government.
lt governors office denied appointment to kejriwal aap government sourcesr