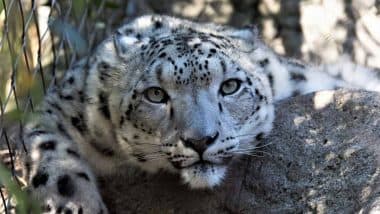 Leopard/symbolic photo (Photo Credits: Pixabay)
Chandrapur: It is very common to have a bloody struggle to maintain supremacy among the fierce animals living in the forest. Here an animal often hunts another animal to keep itself alive and fill its stomach. Although Leopard and Tiger are considered to be the hunter animals of the forest, but if these two hunters come face to face then it is very difficult to decide who will win and who will lose. Meanwhile, a surprising case has come to light from Chandrapur in Maharashtra, where a female leopard was found dead on Thursday morning in the forest of Talodhi forest range. Preliminary investigation has revealed that the leopard was killed by the tiger.
Local forest guard PM Shriram found the dead body of a middle-aged leopard in compartment number 65. Officials have claimed that the marks of struggle found at the spot suggest that the leopard was killed in a fight with some powerful predator like a tiger. Also read: Leopard Attack in Pune: Leopard attacked German Shepherd sleeping in residential complex in Pune, brave dog fought and chased away – Watch Video
Significantly, the post-mortem of the dead body of the female leopard was done in the Savargaon nursery. The autopsy report has confirmed that the cause of death was a bloody fight with a tiger. After this, the leopard's body was burnt in the presence of forest officials and witnesses.
maharashtra death of a female leopard after a bloody fight with a tiger in chandrapur