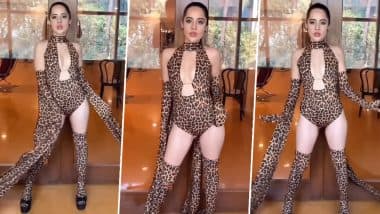 Filmygyan (Photo Credits: Instagram)
Mumbai, January 18: The Maharashtra State Commission for Women (MSCW) has written to the Mumbai Police Commissioner asking him to look into the security demand of model and social media influencer Urfi Javed. An official gave this information on Tuesday.
The official said that Urfi has sent a complaint letter to the MSCW, claiming that Bharatiya Janata Party (BJP) leader Chitra Wagh has filed a complaint against her to gain political mileage. The letter also claimed that Wagh had threatened to beat up Urfi while talking to reporters. In this, Urfi has said that she is feeling insecure outside her house. Also read: UP: Criminals lodged in jails, cameras will keep an eye on every activity of mafia
According to the official, in the letter, Urfi has sought security for herself and MSCW has asked the Mumbai Police to take her complaint seriously. Wagh, who is the president of Maharashtra BJP's women's wing, has filed a complaint against Urfi for wearing "inappropriately" clothes in public places.
maharashtra womens commission asks police to look into urfi javeds security demandr