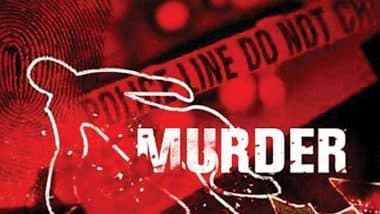 Representational image (Photo: PTI)
Vadodara, January 17: Eight days after he went missing, the Halol police on Monday recovered the body of a 34-year-old man from an open field in Panchmahal. She was hacked to death and buried by the 59-year-old accused allegedly to put an end to the sexual abuse by the deceased. The accused was arrested on Sunday night. The accused, who hails from Halol, eluded all suspicion by cleverly pretending to help the police for a few days, but was arrested because of a phone call made on the victim's phone. The accused alleges that the victim used to forcibly have physical relations with him. Also read: Ghaziabad: Man arrested for killing live-in partner and throwing dead body in Kullu forest
Police said, "The victim and the accused were friends. We suspected that the accused was involved in the murder as he was upset with the victim. The accused had contacted the victim's family sometime back and told them about the victim's threat and blackmailing tactics." Told." The victim left the house on January 8 and did not return. Her family started searching for her and even contacted the accused, who feigned ignorance about the victim's whereabouts. A missing complaint was lodged with the police. Police said that the victim's phone was switched off for some time after he went missing.
But the accused, who had the phone of the victim, used to switch it on at different places in Panchmahal to mislead the police and make them believe that the victim was alive and switch it off again. The police finally traced the accused when he switched on the phone on one such occasion.
A police officer said, "The accused confessed that he had killed Parmar. He said that both of them were friends for the last two years and also had a physical relationship. Later, the victim threatened to make the accused's objectionable photographs viral." ." The accused panicked as he felt that the photographs would destroy his social image.
On January 8, when the victim went to meet the accused, the accused hacked him to death with an axe. After this, the accused dug a pit one and a half feet deep in his nearby field and buried the dead body of the victim. He also left the victim's motorcycle near the Narmada canal. When the relatives of the deceased started searching for him, the accused also pretended to help them.
Police said, "We dug out the body in a mutilated state. A murder complaint has been registered against the accused at Pavagadh police station."
man kills gay partner over forced sex in gujarat