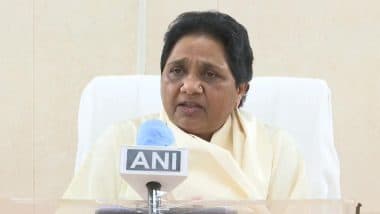 Bahujan Samaj Party President Mayawati (Photo: ANI)
Lucknow, January 15: Bahujan Samaj Party (BSP) president Mayawati on Sunday announced that her party will not forge an alliance with any party for the assembly elections in four states in 2023 and again in the Lok Sabha elections in 2024. He further said that, if elections are held through ballot paper, the results would be different.
He claimed, "Whenever elections have been held through ballot papers, the BSP's strength has increased but after the introduction of EVMs, the results have been unpredictable. EVMs have already been rejected in many countries." Talking to reporters on her 67th birthday here, Mayawati said that the BJP is fooling people in the name of bringing investment. Also read: Bulandshahr: Accused of stealing buffaloes and slaughtering them and owner of soap factory arrested
He said, "The Global Investors Summit is a ploy to cover up the failures of the BJP government. In Uttarakhand, the BJP is displacing people in the name of law." Mayawati further said that BJP is following the footsteps of Congress and Samajwadi Party on the issue of OBC reservation.
mayawati announces no alliance with anyone in loksabha and state elections bsp will contest alone