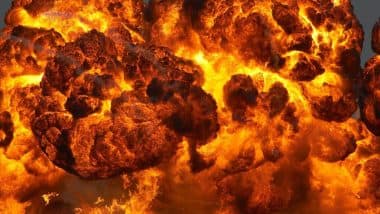 (Photo Credits: Twitter)
Ghaziabad, January 17: A Mercedes caught fire on Tuesday on the Delhi-Meerut Expressway in Ghaziabad. Seeing the smoke coming out of the car, the people sitting in the Mercedes came out by opening the door of the car. On seeing this, the engine part of the car started burning in smoke. Fire brigade was informed. After which the team controlled the fire in half an hour. The accident happened on Tuesday afternoon near Lalkuan in Ghaziabad on the Delhi-Meerut Expressway. The black colored Mercedes was coming from Delhi towards Ghaziabad. Suddenly smoke started coming out of the fuel. Immediately the driver stopped the car. After that the people sitting inside were taken out safely. In the meanwhile the fire broke out.
The fire brigade team reached as soon as the information was received. After that the fire could be extinguished. In this incident, the bonnet part of the vehicle has been badly damaged. Seeing the car burning, a crowd of passers-by gathered on the spot. Some people also made a video of the burning car.
Chief Fire Officer Ghaziabad Rahul Pal said that firefighters reached the spot in time. A fire engine has completely brought the fire under control. There is no loss of life in this. After the fire was extinguished, the car was parked on the side of the road by calling a crane, so that the traffic could not be interrupted. It is believed that the engine caught fire due to short circuit. On the other hand, due to the incident of fire even in such a luxury and expensive vehicle, people are questioning its reliability.
mercedes caught fire on delhi meerut expressway