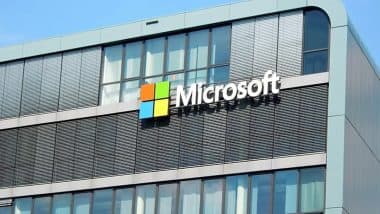 Microsoft (Photo Credits: PTI)
Microsoft Job Cuts 2023: New York, January 18: Technology company Microsoft is laying off 10,000 of its employees. This is five percent of its total employees working worldwide. The company is taking this step due to the current economic conditions and changing consumer preferences. read this also- Amazon Layoffs: Biggest layoff in Amazon, leave of 18,000 employees
Microsoft's Indian-origin Chief Executive Officer (CEO) Satya Nadella while talking to his employees said that the company will scale up its pricing structure in proportion to revenue and consumer demand.
He said, "Today we are making such changes, which will reduce 10,000 workers by the end of the third quarter of the financial year 2022-23. This is less than five per cent of our total personnel strength. We know that these times are challenging for everyone concerned.
The company said that the affected workers will be given compensation payment, health facilities for six months, two months prior notice of termination. Earlier, Meta, the parent company of Facebook, Instagram and WhatsApp, fired more than 11,000 workers in November last year. This number was about 13 percent of its total personnel.
Uncertainty in the global economy has forced companies to cut costs and restructure operations. Meanwhile, Amazon is laying off more than 18,000 workers.
Microsoft told the stock market on Wednesday that it has informed the employees to be fired. Some of these have been removed with immediate effect.
The company said it is also revamping its hardware division and will reduce some of its office space leased. These steps of the company will save about $ 1.2 billion.
(This is an unedited and auto-generated story from a syndicated news feed, likely not the latest staff changes or edits)
microsoft will show the way out to 10000 employees will reduce the number of officesr