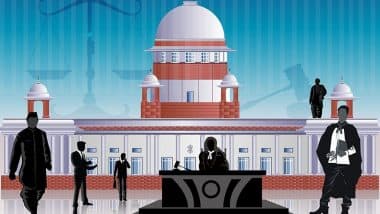 Supreme Court (File Photo)
New Delhi, January 13: The Supreme Court on Friday issued notice on a plea by the National Commission for Protection of Child Rights against the Punjab and Haryana High Court order that said a Muslim girl can marry a man of her choice after attaining puberty. Chief Justice D.Y. Chandrachud and Justice P.S. A bench headed by Narasimha said: We are inclined to consider these writ petitions. issue notice. Solicitor General Tushar Mehta argued that 14, 15, 16 year old Muslim girls are getting married. Can you plead Custom or Personal Law as a defense against a criminal offence? Land For Job Case: New trouble on Lalu Yadav! Approval to run case in land for job case, CBI will investigate
Mehta insisted that according to the personal laws applicable in Islam, the age of attaining puberty is 15 years. The bench said that the High Court's judgment – which held that a Muslim girl of 15 years of age can enter into a legal and valid marriage as per personal law – should not be treated as a precedent in any other matter. Pending further orders, pending further orders, the impugned decision (of the High Court) shall not be treated as precedent.
During the hearing, the apex court was urged to stay the High Court order but noted that if the order is stayed, the girl would be forced to go back to her parents against her will. Will happen. It said that her parents wanted her to get married to her maternal uncle and what would happen, as soon as the High Court's decision was stayed, she would be handed over to her parents, which she did not want.
The apex court said it would issue notice to decide the question of law and added that the judgment cannot be used as precedents. The bench issued notices to the Haryana government and others and appointed senior advocate Rajasekhar Rao as amicus curiae to assist the court.
The National Commission for Protection of Child Rights, in its plea, said the high court erred in ignoring the fact that sex with a minor girl below the age of 18 years is sexual assault under the Protection of Children from Sexual Offenses (POCSO) Act. And this legal position cannot be changed on account of the marital status of the child and whether on the facts and circumstances of the case and in law.
It said, the High Court was justified in holding that a minor girl, after attaining puberty after the age of 15 years, may, of her own free will and consent, enter into a marriage of her choice without considering the validity of the marriage is a minor while concealing the fact that the impugned judgment would be endorsing child marriage which is illegal in India as the POCSO Act applies to all.
The high court's order came on a habeas corpus petition filed by a 26-year-old man against the detention of his 16-year-old wife at a children's home in Panchkula. The High Court said that under Section 12 of the Prohibition of Child Marriage Act 2006, such a marriage would not be void.
supreme court said on the decision of the high court allowing the marriage of a minor muslim the traditions of the past cannot be trusted