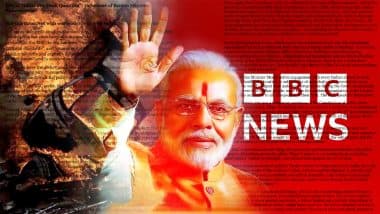 (Photo Credit: Twitter)
BBC Of India: The Modi Question There is a continuous controversy regarding the documentary named (India: The Modi Question BBC Documentary). Over 300 eminent citizens have written an open letter on the documentary, signed by 13 former judges and several former bureaucrats. The BBC has been criticized through the letter. read this also- BBC Documentary: Center's big action, tweets of BBC's 'Propaganda Documentary' removed from Twitter
what is written in the letter
It has been said in this letter that an attempt has been made to tarnish the image of India through the documentary. The British colonial period has also been mentioned in the letter. The BBC's series India: The Modi Question is about the 2002 riots in Gujarat, when Modi was the chief minister of the state.
The letter said, "Not this time. Not with our leader. Not with India. Never in our time!" The letter further said, "Once again, the BBC's negativity and blatant bias towards India has come to the fore through the documentary "India: The Modi Question". The BBC claims that it has been "thoroughly researched with the highest editorial standards" and the documentary series "examines the tensions between India's Hindu majority and Muslim minority and the Prime Minister of India, Narendra Modi, in relation to those tensions". Explores politics." We have many examples of British Raj, their policy to revive Hindu-Muslim tension and create divide and rule policy of British Raj. This series is based on misleading and clearly one-sided reporting.
cleaning bbc
The BBC, while clarifying on the controversial documentary, said that it is a documentary made after a lot of research, in which an attempt has been made to highlight important issues objectively.
UK PM Sunak came to the rescue of PM Modi
British Prime Minister Rishi Sunak has defended Prime Minister Modi regarding the documentary. Sunak said he did not agree with the characterization of Prime Minister Modi by Imran Hussain, a Pakistani-origin MP from the opposition Labor Party.
over more than 300 ex judges bureaucrats expressed their anger india the modi question bbc documentary