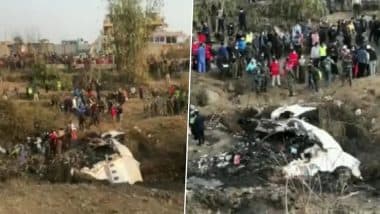 Plane crash in Nepal (Photo Credits)
Kathmandu, January 17: Air hostess Oshin Ale Magar, who was killed in the plane crash, had promised while leaving home on Sunday that she would return to Pokhara and celebrate the festival of Maghe Sankranti with the family, but her body has reached home after Sunday's accident. Oshin was among the 72 people on board the Yeti airline plane '9N-ANC ATR-72' that fell into the ravine of the Seti river on Sunday while landing at Nepal's Pokhara airport. Out of the 69 bodies recovered so far, one body is also of Oshin.
Oshin's family was preparing to celebrate Maghe Sankranti at home, when the news of the plane crash reached them. Ashin's father Mohan Ale Magar, a retired soldier from the Indian Army, recalled how he had told him early in the morning not to go to work on the festival. Also read: Nepal Plane Crash: Family members of 4 people from UP killed in Nepal plane crash left for Kathmandu
Mohan told 'Republica' newspaper over the phone that after completing two flights, he had talked about returning home to celebrate the festival. According to the news, Oshin was working with Yeti Airline for the last two years. Oshin, originally from Chitwan, had been living in Kathmandu since starting her job and her parents were also living together for the past six months. Oshin has two sisters and one brother. She was the eldest of four siblings. His brother is only four years old.
nepal plane crash air hostess could not fulfill her promise to celebrate maghe sankranti with familyr