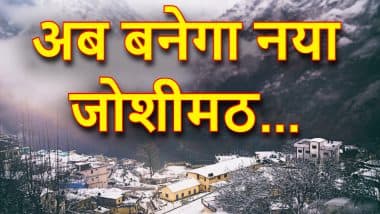 (Photo Credit: Twitter)
Joshimath, January 11: Due to Joshimath landslides, cracks are appearing in the houses continuously. Meanwhile, the ongoing meeting with the administration in Joshmeeth regarding compensation to the local people did not work out. It was said by the administration that compensation of Rs 1.5 lakh would be given to the affected families, but the affected refused. Joshimath Sinking: Houses will not be demolished in Joshimath yet… Victim families will get Rs 1.5 lakh compensation
The government is considering making New Joshimath on the lines of Tehri, but the local people are not ready for it. They want to stay in Joshimath only. Although the government has selected three places to shift the population of Joshimath. In this, there is land of Horticulture Department near JP Colony in Joshimath. Second, a plan is being made to shift people to the ground near Pipalkoti and third to Gauchar.
Survey of buildings affected by landslide is being done. People are being temporarily shifted from unsafe buildings to safer places. An amount of 1.5 lakh is being given as interim assistance to the affected families immediately. In which Rs 50,000 is being provided in advance for house shifting and Rs 1 lakh for disaster relief. Which will be adjusted later.
The main opposition Congress has also heated up the political atmosphere on the issue of Joshimath. Former Chief Minister Harish Rao has sat on a silent fast. Sitting on dharna with supporters in Gandhi Park, the former CM said that there should be a one-time settlement of the buildings being demolished in Joshimath. Demolition without any rehabilitation policy is unjust.
like tehri now new joshimath uttarakhand government selected these 3 places