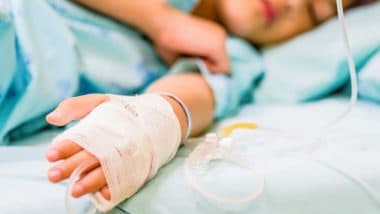 Representational Image (Photo Credits: Twitter)
Noida, January 14: In Noida, a man thrashed a shopkeeper with a stick for not returning his clothes. The video of the case has surfaced. It is seen that two youths enter the shop with sticks. After this, without saying anything, a young man hits the shopkeeper with many sticks one after the other. The shopkeeper runs here and there to escape. Even after this the person keeps on beating him. Meanwhile, a person comes from outside to save him, but the domineering person manhandles him too. Police has arrested an accused. Search is on for the other one.
ACP Rajneesh Verma told that there is a readymade garment shop of Aarosh Nanda in Sector-20 Atta Market. Two months back two youths had bought clothes from here. On the evening of January 12, both the youths came to the shop and asked them to change the clothes, saying that the fitting was not correct. It is being told that the shopkeeper refused to change the clothes. Angered by this, the youths started beating the shopkeeper Aarosh with a stick.
This incident was captured in the CCTV camera installed in the shop. Today someone has made it viral on social media. The ACP said that a case has been registered on the complaint of the shopkeeper. One of the accused has been identified on CCTV and arrested. The search is on for the second youth. Soon he will also be arrested.
noida shopkeeper beaten with stick for not changing clothes