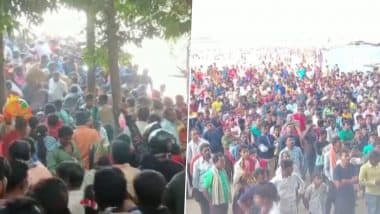 Stampede at Makar Sankranti fair (Photo Credits ANI)
Odisha Stampede: One person was killed and eight others were injured, four of whom are in critical condition, in a stampede in Cuttack district on the occasion of Makar Mela on Saturday. The untoward incident took place on the Badamba-Gopinathpur T-bridge, where a large number of devotees had gathered for the Makar Mela. Devotees were crossing the bridge to see the fair and to have darshan of Lord Singhnath near the bridge. Local MLA Debi Prasad Mishra confirmed that a 45-year-old woman named Anjana Swain was killed in the stampede, while four seriously injured people were admitted to the SCB Medical College Hospital in Cuttack city.
He said that the other injured have been admitted to the Community Health Center (CHC) near Badamba. Talking to reporters after the incident, Athagarh sub-collector Hemant Kumar Swain said that an unexpected number of devotees are coming to Lord Singhnath temple. Since the festival was allowed after a gap of two years due to the Kovid-19 pandemic, this time the number of devotees has increased significantly. Also read: Odisha: Big accident in Odisha, stampede on Badamba-Gopinathpur T-bridge at Makar Sankranti fair, 2 killed, many injured (See Pic and Video)
A large number of devotees came to the temple from Cuttack and surrounding districts – Khordha, Puri, Angul, Dhenkanal, Boudh and Nayagarh. Meanwhile, the local people alleged that the administration is not fully prepared to handle such a large number of devotees. He alleged that adequate number of police personnel were not deployed.
Odisha Chief Minister Naveen Patnaik expressed grief over the incident and announced an ex-gratia of Rs 5 lakh for the family of the deceased. The Chief Minister also directed the concerned officials to provide free treatment to all the injured.
odisha stampede one killed 8 injured after crowd gathering during makar sankranti mela in cuttack