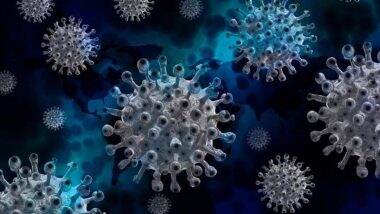 Omicron subspecies (Photo: Twitter)
New Delhi: The new variant of Corona (COVID-19) spreading rapidly around the world XBB.1.5 is also affecting vaccinated people and people who have been infected with Corona as compared to other variants. This has been claimed in a new research. According to the World Health Organization (WHO), the new variant of Corona XBB.1.5 has been considered the most infectious form so far. It has been described as Omicron's sub variant (Omicron Sub Variant XBB.1.5) which has the ability to mutate itself very fast. Diseases Alert: 'Tsunami' of dreaded diseases like cancer will come in India, warns cancer specialist.
According to the study, this variant is also more likely to infect people who have been vaccinated or who have had COVID-19 before. The World Health Organization (WHO) recently reported that cases of XBB.1.5 variant have been found in 38 countries, in which only this variant is responsible for 82 percent of corona cases in America. At the same time, eight percent of Britain's and two percent of Denmark's corona cases are due to this variant.
The Omicron XBB.1.5 strain is spreading rapidly around the world. According to a recent study, it is 63 times less likely to be neutralized by existing antibodies than the BA.2 subvariant. Also, it is 49 times more potent than the BA.4 and BA.5 subvariants.
What is the Omicron XBB.1.5 variant?
The XBB.1.5 strain is a member of the family of Omicron XBB variants, which are recombinants of the Omicron BA.2.10.1 and BA.2.75 sub-variants. WHO official Maria Van told that the more the XBB.1.5 subvariant is spreading, the more it is likely to change.
position in india
INSACOG said earlier this week that a total of 26 cases of XBB.1.5 of COVID have been detected in India so far. The variant has so far been found in 11 states and union territories, including Delhi, Maharashtra and West Bengal. After the new study, people are worried whether this variant can cause serious infection?
What are the characteristics of the XBB.1.5 variant
There is no evidence yet of any new or classic symptoms of this Omicron variant XBB.1.5. XBB.1.5 is having the same effect on people as it was seen in the last few variants. Only classic symptoms of corona like runny nose, sore throat, headache are seen in infected people. However experts have said that due to high fever in XBB.1.5 the patient may feel very sick and tired. The patient is more likely to show flu-like symptoms.
omicron xbb 1 5 all you need to know about this new variant