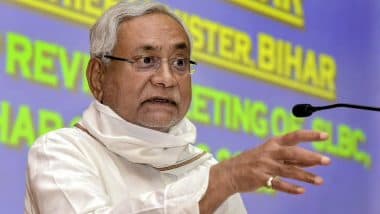 CM Nitish Kumar (Photo Credits: PTI)
Patna, January 17: Bihar Chief Minister Nitish Kumar on Tuesday gave his reaction for the first time on the derogatory remarks made by Education Minister Dr. Chandrashekhar regarding Ramcharitmanas, saying that no one should interfere in the matter of religion. Journalists asked Nitish Kumar a question related to the controversy over the statement given by the Education Minister on Ramcharitmanas, then he said where the controversy is taking place.
He said that there should not be any dispute in all these matters. He said that whoever is a follower of any religion, there should not be any kind of interference in it. He should worship whomever he wants, he should follow. It is notable that Bihar's Education Minister Dr. Chandrashekhar, while addressing a program of Nalanda Open University, had termed the Hindu scripture Ramcharitmanas as inciting hatred. After this, there is criticism across the country regarding this statement of the Education Minister. Also read: BJP, RSS control all the institutions of the country: Rahul Gandhi
Regarding this statement in Bihar, the opposition BJP is adamant on demanding an apology from the education minister and his removal from the cabinet, while the JDU, which is part of the Grand Alliance, is also calling this statement wrong.
on the statement of education minister chief minister nitish said there is no need to interfere in the matter of religion