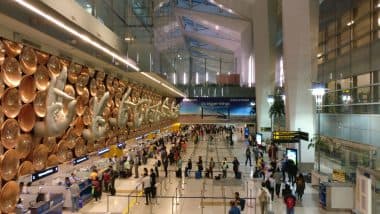 Delhi IGI Airport (Photo: Wikimedia Commons)
New Delhi: After urinating on a female passenger inside the flight, a new case has come to the fore. A passenger urinated publicly at T-3 of Delhi's IGI Airport. The accused passenger had to catch a flight to Saudi Arabia from here. But before that, when he was about to enter T-3, he urinated openly in front of the people near gate number-6 of T-3. When some people tried to stop him, he misbehaved with them while abusing them. Urinated On Woman: Air India's action against the accused who urinated on the woman, 30 days ban on the passenger.
Police said that the name of the arrested passenger is Zahoor Ali Khan, who is a resident of Mohan Garden, Dwarka. Zahoor had to go to Saudi Arabia by Indigo's flight number-6E-1224. When he reached T-3 to catch his flight at around 5 pm on January 8, he was drunk. The accused passenger was arrested and later released on bail bond.
the passenger was drunk
One Jauhar Ali Khan, scheduled to depart from Delhi on a flight to Dammam was urinating publicly in front of departure gate 6 at IGI Airport T3 on Jan 8. Khan, who seemed to be inebriated, also abused passengers. He was arrested & later released on a bail bond: Delhi Police

— ANI (@ANI) January 11, 2023
It is alleged that he turned around in front of Gate No.6 of T-3. After this, he urinated right there in front of the gate full of passengers. This matter was seen by an ASI of CISF posted there. He immediately ran towards the accused passenger and caught hold of him. During this, when people protested, the accused also abused them.
The accused passenger was called to the airport police and handed over to them. Police said that the accused passenger was arrested. His medical was done. He was found intoxicated in it. Later the passenger was questioned. He told that he had no idea what he was doing. he was drunk.
Similar incident happened in Air India flight
The case of a passenger urinating on a woman in an Air India flight came to the fore recently. On 26 November, Air India flight was coming from New York to Delhi. That's why Shankar Mishra, who was traveling in the business class of the plane, urinated on a 70-year-old elderly woman. Police has registered a case against the accused under section 354,294,509,510 of IPC.
drunk passenger publicly urinates at at departure gate of delhi igi airport