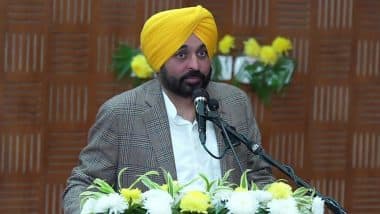 Punjab CM Bhagwant Mann (Photo Credits: Twitter)
Chandigarh, January 16: Punjab Chief Minister Bhagwant Mann said on Monday that his government has given government jobs to 25,886 youth in just 10 months of its tenure. After handing over the appointment letters to 271 specialist doctors, 90 lab technicians and 17 assistants in the Health and Family Welfare Department here, he said that this place has been witness to many such events in which youth have got jobs in government departments.
Mann said that since taking charge, his government has handed over job letters to 25,886 youth in various departments. He said that such a large number of jobs in just 10 months shows the commitment of the state government to ensure the welfare of the youth and open new avenues of employment for them. Also read: Punjab: CM Bhagwant Mann claims, 25,886 government jobs given in just 10 months
The Chief Minister reiterated his government's commitment to develop the state as a global healthcare hub. He said that to promote medical education in Punjab, the government has decided to set up 16 new medical colleges in five years, taking the total number of medical colleges in the state to 25. He said that on one hand it would provide quality medical education to the students and on the other hand it would help in providing world class health facilities to the people.
The Chief Minister said that Aam Aadmi Clinics have revolutionized the healthcare sector in the State and more than 95 per cent patients who visit these clinics daily are cured. He said that since the commencement of these clinics from August 15, 2022, they have seen more than 10 lakh patients.
Mann said that these clinics are working as a cornerstone in the revival of the healthcare system in Punjab. Referring to an emotional connect with doctors and health workers, the chief minister recalled how his major surgery was performed by a doctor when he was five years old.
He called upon the doctors and health workers to provide treatment to the patients, especially the underprivileged and weaker sections of the society. Mann said that this is the true service of humanity, which needs to be done with missionary zeal.
25886 govt jobs given in just 10 months punjab cm bhagwant mann