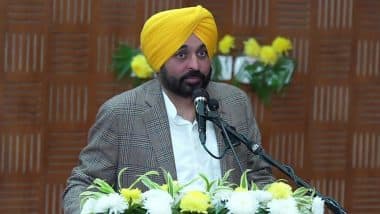 Punjab CM Bhagwant Mann (Photo Credits: Twitter)
Mohali: Describing the 117 'School of Eminence' as a revolutionary step to ensure a bright future for the students, Punjab Chief Minister Bhagwant Mann on Saturday said that it is a real milestone in the field of education. That's a giant leap towards becoming a pioneer. Addressing a gathering during the inauguration of the School of Eminence here, the Chief Minister said, during the tenure of the previous governments, Punjab was shown to be the leading state in education only on paper. However, he said that now the state will actually lead the country in providing quality education to the students.
CM Mann said that the government schools are making efforts for infrastructure and manpower, but the previous governments misled the people by presenting fake figures. The Chief Minister said that since these governments neglected an important sector like education, the state lagged behind in this education. Who is Shahrukh Khan? 'Who is Shah Rukh Khan, I don't know', CM Himanta reacts sharply on Pathan controversy
The CM further said that many students are forced to leave their education midway, which ruins their bright future. Girls are not able to continue their education due to paucity of resources and laxity of previous governments.
The Chief Minister said- These 117 'Schools of Eminence' being established in 23 districts of the state are temples of quality education. The purpose of establishing these schools is to give wings to the dreams of promising students of government schools. Maan envisioned that these schools would enable students to compete with their convent-educated peers in various competitive examinations across the country.
The Chief Minister said that these schools are being established to cherish the aspirations of our great freedom fighters. He also announced to name these schools after the great martyrs and national leaders who laid down their lives for their motherland. Mann said that this initiative will be a true tribute to these eminent leaders who gave freedom to the country. He envisioned that the day is not far when these government schools will provide better education than private schools.
Mann said that parents of students would now prefer to send their children to these schools than to private schools. The Chief Minister said that such schools have already brought a revolution in the field of education in Delhi. He said that now it is the turn of Punjab where this model will be implemented successfully. Addressing the gathering, Education Minister Harjot Singh Bains said that this is the dream project of the Chief Minister.
punjab cm bhagwant mann said 117 schools of eminence being established in 23 districts are temples of quality education