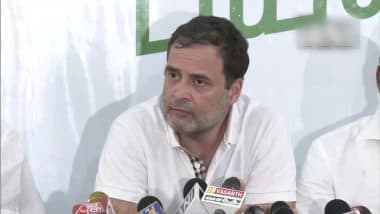 Rahul Gandhi (Photo Credits ANI)
Ambala: The 'Bharat Jodo Yatra' under the leadership of Congress leader Rahul Gandhi reached Ambala district on Monday evening. After reaching here, while addressing a street meeting, the Congress leader said that Haryana is the land of Mahabharata. During this, he targeted the RSS and the government. The Congress leader said whether people have ever heard about Pandavas spreading hatred on this earth and committing any crime against innocents. Bharat Jodo Yatra: 'I killed the Rahul Gandhi who is in your mind'
The Congress leader said, "People of all religions were with the Pandavas. Just like this (Bharat Jodo) Yatra, in which no one asks from where you have come. This is the shop of love. Pandavas stood against injustice, they also opened the shop of love in the market of hatred. On one side there were these five ascetics and on the other side there was a crowd. ,
Referring to the Mahabharata, he said, "Were the rich of that time sided with the Pandavas? If this was the case then why would the Pandavas have to wander in the forests. Why were the Pandavas thrown out of their houses, because there were no rich people with them. But the farmers, poor, small shopkeepers of this country stood with him. This is the country of ascetics.
watch video here
Which was the second religion at the time of Pandavas?

Looks like Rahul has read Audrey Traschke's propaganda Mahabharata pic.twitter.com/VKci0z1wby

— Ankur Singh (@iAnkurSingh) January 9, 2023
Targeting the Rashtriya Swayamsevak Sangh (RSS), Rahul Gandhi termed its swayamsevaks as 'Kauravs of the 21st century' and alleged that they never say 'Har Har Mahadev' and 'Jai Siya Ram' as they follow Indian values ​​and austerity. are against. In an apparent reference to the RSS, he said, "Who were the Kauravas? First I will tell you about the Kauravas of the 21st century. They wear khaki shorts, carry sticks in their hands and plant branches. Two-three richest billionaires of India are standing with these Kauravas.
He said, "RSS people never say Har Har Mahadev. I think t. Because Lord Shiva was an ascetic and they (RSS) are attacking India's austerity, so they cannot say Har Har Mahadev." Rahul Gandhi said, "They never say Jai Siya Ram. He has removed Sitaji from it.
Rahul Gandhi said, he has acted against our history and values. And when a Congress worker meets an RSS worker, he should say Jai Siya Ram because Sita also holds a position like Ram. "He said," People do not understand this, but the war as it happened then, is the same today. Is. between whom is it? Who were the Pandavas? Arjuna, Bhima…they used to do penance.
Rahul Gandhi further claimed that the Pandavas did not implement demonetisation and GST because they were ascetics. Did the Pandavas implement demonetisation? Did they bring faulty GST? Would he ever do that? No.
pandavas had supporters of all religions they didnt implement gst demonetisation says rahul gandhi