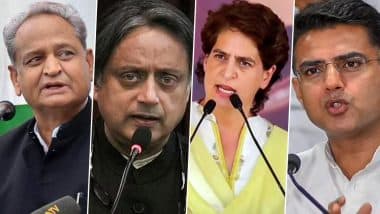 (Photo Credit: Twitter)
Jaipur, January 21: Senior Congress leader and Thiruvananthapuram MP Shashi Tharoor on Saturday advised Rajasthan Chief Minister Ashok Gehlot to think carefully about his allies. He made this statement while talking to the media at the Jaipur Literature Festival (JLF), Tharoor was asked a question about Gehlot calling Sachin Pilot a 'traitor', 'nikkama', 'nakara' and 'corona'. BBC Documentary: Center's big action, tweets of BBC's 'Propaganda Documentary' removed from Twitter
Tharoor said- When we are talking about our colleagues, we should speak thoughtfully. I did not use such words even for my opponents. I have been in politics for 14 years, but I have never said anything like this about anyone. I do not want to wrestle mud in politics.
Congress MP said- I request my colleagues that it is not good to use such words about our own brothers and sisters. We should try to resolve our differences. People may have different views, but there are other ways of expressing them. We should have love for each other in the party.
In November last year, Gehlot had called Pilot a 'gaddar' (traitor) for rebelling in an attempt to topple the Rajasthan government.
rajasthan cm gehlot called sachin pilot a traitor shashi tharoor said give a statement carefully