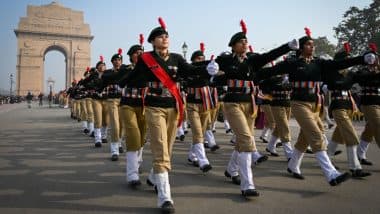 Republic Day Parade 2023 (Photo Credits: Twitter)
New Delhi, January 18: This year the Republic Day celebrations will be held at Central Vista Avenue and the government has put 32,000 tickets on sale online for the public. Defense Ministry officials gave this information on Wednesday. He told that it will happen for the first time that all the official invitations for the ceremony will be sent online. Republic Day 2023: Parade rehearsal on duty path amidst bitter cold and dense fog (Watch Video)
This will be the first Republic Day celebration after 'Rajpath' was renamed 'Kartavya Path' last year. Defense Secretary Giridhar Armane made a presentation on the events to be held from January 23-31 as part of the Republic Day celebrations after a press conference at South Block here.
The Defense Secretary informed that the Republic Day celebrations will be held in the spirit of 'Janbhagidari' and workers of the Central Vista project and their family members, duty path maintenance personnel, vegetable vendors, grocery shopkeepers and rickshaw pullers will be among the "special invitees". Will participate as usual.
He said, "Before Kovid-19, more than one lakh people used to attend the Republic Day celebrations. About 42,000 people are expected to attend this year and 32,000 tickets for seats in the event have been put up for sale online.
The Defense Secretary said that the celebrations would begin with a grand event on January 23, the birth anniversary of Netaji Subhash Chandra Bose, and continue till Mahatma Gandhi's death anniversary (January 30). Officials said that an Egyptian military contingent will also take part in the ceremony.
(This is an unedited and auto-generated story from a syndicated news feed, likely not the latest staff changes or edits)
republic day parade 32000 tickets to be sold onliner