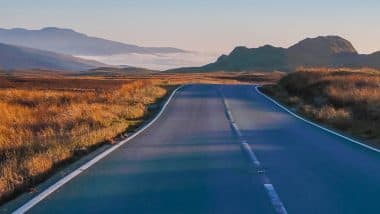 Representational Image (Photo Credits Pixabay)
Balrampur, January 15: It has been 75 years since the country got independence, but there are many villages where even basic facilities like roads have not been provided till now. One such village is in Balrampur, Chhattisgarh, where a road is now being built. Pundag village of Balrampur Ramanujganj district is situated at a distance of about 140 km from the headquarter. The population of the village is about 22 hundred. Till now there was no road in this village. Amavas of the hill Korba tribe of Pundag village tells that I am about 40 years old. But I have not yet gone to the district headquarters Balrampur. On asking the reason, they say that there was no road from here to Balrampur.
The people of our village used to go to Chhattisgarh via Jharkhand when there was work. Sometimes someone used to fall ill, then there was a lot of trouble. Our children will be greatly benefited by the construction of the road, they will be able to go out of the village for higher education. There are dense forests and many ghats to reach Pundag. Due to the inaccessible area, it was not easy to build a road here. Many rocks and drains were a big obstacle in the middle of the way. Along with this, this area was extremely Naxal affected. Immediately after this village, there is Budhapahar area on the Jharkhand border, which was considered a stronghold of Naxalites. Also read: Chhattisgarh's three schemes got recognition at the national level, under the guidance of Chief Minister Bhupesh Baghel, a unique initiative of chips was taken
Since the formation of the state, there were about 435 Naxalite incidents in this area, but if we talk about the last four years, there have been only isolated incidents, along with there has been some loss of life and property. The police have almost driven out the Naxalites from this area. Due to Naxalite incidents in the past, the pace of development works in this area had slowed down a bit, but in the last four years, four camps have been established here in 24 kms.
These camps have been set up in Sabag, Bandarchua, Bhutahi and Pundag. The state government has provided full assistance in opening these camps. Many bores have been made here to provide drinking water to the jawans. The result of the opening of the camp was that the Naxalite incidents here have come down to zero and the development work has started rapidly in the area.
road being built in a village in chhattisgarh after 75 years of independence