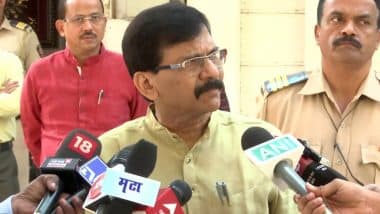 Sanjay Raut (Photo: ANI)
New Delhi: Shiv Sena leader Sanjay Raut has termed Congress MP Rahul Gandhi capable of becoming the country's PM. Sanjay Raut said on Saturday that no third front would be successful without an old party like the Congress. He said that the purpose of Rahul Gandhi's Bharat Jodo Yatra from Kanyakumari to Kashmir is to remove hatred and fear, and not to unite the opposition parties under the banner of the Congress party.
Raut said on Saturday, apart from political and ideological differences, Rahul Gandhi will show his leadership qualities and will be a big challenge (for the ruling BJP in the 2024 general elections). He'll do a miracle. BBC Documentary: Center's big action, tweets of BBC's 'Propaganda Documentary' removed from Twitter
Shiv Sena MP Raul said, Rahul Gandhi walked for about 13 kilometers between Hatli Mor and Chandwal even during the rain on Friday. BJP has spread misconceptions about him, but this visit has busted all their myths about him.
Sanjay Raut said that not everyone can cover a distance of more than 3,500 kilometers from Kanyakumari to Kashmir. It requires a lot of determination and love for the country. He has shown his concern for the country and I do not see any politics in this visit.
On the other hand, on the question of Rahul Gandhi being able to become the Prime Minister of India, Sanjay Raut said, why not? However, Raul also said that Rahul himself has been saying that he is not interested in becoming the Prime Minister, but when people want to see him at the top post, he will be left with no choice.
sanjay raut on rahul gandhi shiv sena leader sanjay raut gave a big statement said rahul gandhi is capable of becoming the pm of the country