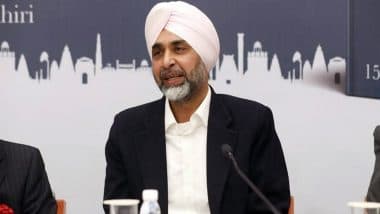 Senior Leader Manpreet Badal (Photo Credits: Twitter)
New Delhi, January 18: Senior Punjab leader and former finance minister of the state government Manpreet Badal on Wednesday resigned from the Congress and joined the Bharatiya Janata Party (BJP). Badal joined the BJP in the presence of Union minister Piyush Goyal, BJP general secretary Tarun Chugh and party's national media in-charge Anil Baluni. Badal had resigned from the Congress just before joining the BJP.
Manpreet Badal's joining BJP is being considered as a major setback for the Congress in Punjab. Former Chief Minister Amarinder Singh and former Punjab Congress President Sunil Jakhar have already joined the BJP. In his resignation letter sent to former Congress president Rahul Gandhi, Badal said he was "disillusioned" with the Congress. Badal shared his resignation on Twitter. He said in his resignation, "I have given my all in fulfilling whatever responsibility was given to me in the party and the government. I thank you for giving me this opportunity and honoring me. Also read: Chhattisgarh: Female leopard trapped in cage after killing three people in a month
"Unfortunately, due to the prevailing culture and neglectful attitude within the party, I no longer wish to be a part of the Indian National Congress," he said. merged with. I had taken this step with great hopes and aspirations that it would give me full opportunities to serve the people of Punjab and their interests to the best of my ability. Disappointment grew and disillusionment set in.
senior punjab congress leader manpreet badal joins bjp