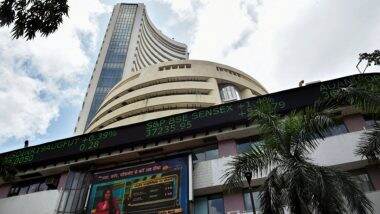 Sensex (Photo Credits: File Photo)
New Delhi, January 15: The market capitalization (market cap) of seven of the top 10 Sensex companies collectively increased by Rs 1,07,224.82 crore last week. Tata Consultancy Services (TCS) and Infosys were the biggest gainers in the information technology sector. Last week, the 30-share BSE Sensex gained 360.81 points or 0.60 percent. While the market capitalization of TCS, HDFC Bank, Infosys, Hindustan Unilever, ICICI Bank, HDFC and Life Insurance Corporation (LIC) increased in the week under review, the valuation of Reliance Industries, State Bank of India (SBI) and Bharti Airtel declined. The market capitalization of TCS increased by Rs 59,349.81 crore to Rs 12,34,637.11 crore.
Infosys' market valuation jumped by Rs 22,997.16 crore to Rs 6,32,684.95 crore. Infosys' December quarter profit has been better than expected. The company's profit increased by 13.4 percent during the quarter. Meanwhile, Hindustan Unilever's market cap rose by Rs 10,514.42 crore to Rs 6,16,004.09 crore. HDFC's valuation increased by Rs 4,904.87 crore to Rs 4,78,922.89 crore. LIC's market capitalization increased by Rs 3,668.5 crore to reach Rs 4,50,782.59 crore. HDFC Bank's market cap rose by Rs 3,624.89 crore to Rs 8,92,754.89 crore, while ICICI Bank's valuation rose by Rs 2,165.17 crore to Rs 6,09,305.82 crore. Also read: Sensex Update: Fall in the stock market for the second consecutive day, Sensex 304 points and broken
Contrary to this trend, the market capitalization of Reliance Industries declined by Rs 47,290.7 crore to Rs 16,69,280.55 crore. Bharti Airtel's market cap declined by Rs 17,373.86 crore to Rs 4,25,982.59 crore. SBI's valuation declined by Rs 490.85 crore to Rs 5,35,521.33 crore. Reliance Industries retained the first position in the list of top 10 companies. It was followed by TCS, HDFC Bank, Infosys, Hindustan Unilever, ICICI Bank, SBI, HDFC, LIC and Bharti Airtel respectively.
market capitalization of seven of the top 10 sensex companies increased by rs 1 07 lakh crorer