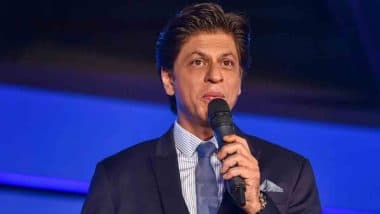 Shahrukh Khan (Photo Credits Instagram)
Guwahati, 22 January: Assam Chief Minister Himanta Biswa Sarma said on Sunday that actor Shah Rukh Khan called him late on Saturday night. The actor expressed concern over the burning of the poster of his upcoming film 'Pathan' by some members of Bajrang Dal in Guwahati. CM Sarma tweeted from his Twitter account and wrote, Bollywood actor Shah Rukh Khan called me this morning at two o'clock and talked. The actor expressed concern over an incident that took place in Guwahati during the screening of his film. I assured them that it is the duty of the state government to maintain law and order. We will inquire and ensure that no such untoward incident happens.
Sources close to the Chief Minister said that Shahrukh Khan first messaged Sarma and then called him. Khan sought cooperation from the Chief Minister of Assam for the smooth release of his upcoming film in the state. Sarma has assured the actor of maintaining law and order. According to reports, on Friday, several members of a right-wing group created a ruckus at LG Towers in the city and forcibly removed posters promoting Khan's next release 'Pathan'. Bajrang Dal has already threatened that it will not allow the film to be released in Assam. Also read: Tara Sutaria flaunted sexy curves wearing a white sports bra, the hotness of the actress increased the temperature of social media (View Pic)
Responding to this incident, Sarma had said on Saturday, who is Shahrukh Khan. There are many people of this name in Assam. I also don't know anything about Pathan. I have no time to inquire about these things. He also said, if someone has done something wrong, then let the victims file a case and we will take action. Also, Shahrukh Khan did not call me for help in this regard.
shahrukh khan calls assam cm seeks support for the release of the film pathan