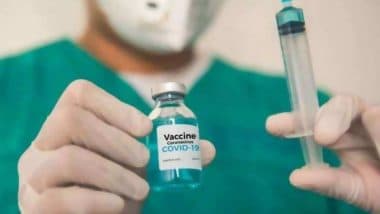 covid-19 vaccines (Photo Credits: Pixabay)
Mumbai, January 17: Two bodies of the government have admitted that the Kovid-19 vaccines administered to more than a billion Indians in two years have multiple side effects. The Indian Council of Medical Research (ICMR) and the Central Drugs Standard Control Organization (CDSCO) have made shocking disclosures in the RTI information sought by Pune-based businessman Prafulla Sarada.
India has given permission to AstraZeneca and Serum Institute of India, Pune's 'Covishield' and SII's own 'Covavax' vaccine. Vaccines from three Hyderabad-based companies – government-run Bharat Biotech Ltd's 'Covaxin', Dr Reddy's Lab's 'Sputnik V', Biological E. Ltd's 'Corbvax' and later Cadila Healthcare Ltd Ahmedabad – have been launched for teenagers (ages 12-17). ) imported ZCOY-D vaccine for Also read: Delhi COVID-19 Update: Delhiites beat Corona, no cases and deaths of Kovid in the last 24 hours
On the question asked by Sharda on the side effects of all these vaccines, Dr. Liana Susan George of ICMR and Sushant Sarkar of CDSCOS have cited the effects arising from all these vaccines, including their frequently asked questions. Red spots or rashes from Covishield, persistent vomiting for no reason, severe or persistent stomach pain or vomiting with or without headache, shortness of breath, chest pain, pain in the limbs or swelling on pressing the arms, pain on a particular side or body Problems such as weakness/paralysis of limbs, seizures, eye pain, blurred vision or diplopia etc. were reported.
Side-effects of Covax are injection site pain/tenderness/hardness, fatigue, malaise, headache, fever, muscle pain, joint pain, vomiting nausea, chills, body aches or extreme pain in limbs, asthenia ( weakness or lack of energy) ), itching at the injection site (itching, rash, red skin, hives), enlarged lymph nodes, back pain, etc. Covaxin exhibits mild symptoms such as injection site pain/swelling, headache, fatigue, fever, body aches, abdominal pain, nausea, vomiting, dizziness, lightheadedness, tremors, sweating, chills, and cough.
Side effects of Sputnik V include chills, fever, arthralgia, myalgia, asthenia, headache, general malaise, pain/swelling/hyperemia at the injection site, or nausea, dyspepsia, loss of appetite, or sometimes accompanied by enlarged regional lymph nodes appears. Carbivax shows side effects such as fever/pyrexia, headache, fatigue, body aches, myalgia, nausea, or arthralgia, urticaria, chills, lethargy, as well as injection site pain/erythema, swelling, rash, pruritis, or irritation.
Sarada urged the government to release data on whether there was enough publicity on all these possible side effects by the media, hospitals, vaccination centres, and whether the health ministry launched any public safety campaign for the people. Sarada said that India donated crores of vaccines to many poor countries around the world. The question is whether all the possible complications of the vaccine were brought to the notice of the people of those countries.
The government said that all global agencies have set benchmarks that only those vaccines will be considered, which show an efficacy of at least 50-60 percent. Most vaccines have shown an efficacy of 70-90 percent. More than 100 crore people have received at least one dose of the Covid-19 vaccine and the proportion of side effects is very low.
According to information received from RTI, the government has allowed conditional market sales of Covishield and Covaxin from August 2022 after the initial mass vaccination, but Sputnik V and Cobirvax will remain exclusively for emergency use.
side effects of covid 19 vaccine government accepted many side effects of covid 19 vaccine