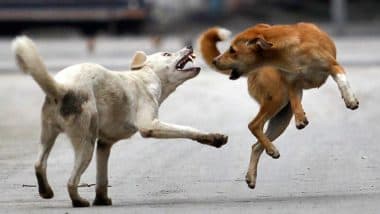 Stray dogs (Photo Credit: Twitter/@prasadbolex)
Stray Dog Attack in Surat: In Surat, a girl playing in front of her house was bitten by a rabid dog, due to which she was seriously injured and had to undergo surgery. A CCTV footage of the incident surfaced on social media on Monday. Victim Ravi's aunt Megha told the media that the girl was playing in front of the house in Phulpada area on Saturday evening when a rabid dog attacked her on the face. Had to undergo a minor surgery and got stitches on his cheek.
Kinjalben, who saved Ravi from the mad dog, said that she was playing with her children. The other children had gone ahead and Ravi was left behind when the dog bit him. It was only after CCTV footage surfaced on Monday and locals complained to the Surat Municipal Corporation (SMC) that the team swung into action. SMC officer Rajesh Ghelani told that the team has caught three to four dogs from Phulpada area. Also read: Stray Dogs Attack: A pack of stray dogs killed 27 sheep, injured 22 in Badaun
Video:
#WATCH: A dog attacked a girl child in Surat, Gujarat. The girl playing outside the house was badly injured. The dog also attacked the mother who went to save the child. This incident captured in CCTV is of Hanspura Society.#Gujarat #surat #viralvideo pic.twitter.com/rfl9hrvtbY

— Hindustan (@Live_Hindustan) January 9, 2023
He even claimed that the SMC team is catching 30 to 35 stray dogs daily. In the last calendar year, 7521 dogs were caught, out of which 6530 were sterilized.
gujarat stray dog ​​brutally attacks girl in surat