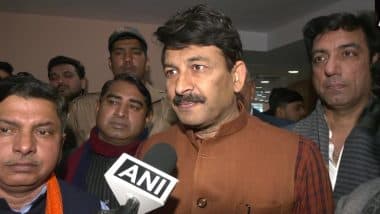 BJP MP Manoj Tiwari (Photo Credit: Twitter)
New Delhi, January 20: Delhi BJP working president Virendra Sachdeva and former Delhi BJP state president and Lok Sabha MP Manoj Tiwari have claimed that the person who molested Delhi Women's Commission Chairperson Swati Maliwal is an Aam Aadmi Party worker and is close to AAP MLA Prakash Jarwal. Is. Delhi: Video of molestation of Swati Maliwal surfaced, Drunk man dragged from car (Watch Video)
Questioning the sting done by Swati Maliwal, Manoj Tiwari has demanded Delhi Police to investigate the entire matter and said that the police should also check the call records of the person who molested AAP MLA Prakash Jarwal and Swati Maliwal. How many times did he talk to whom before this incident? Tiwari further said that it is necessary to reveal the truth of this fake sting because this kind of joke with the people of Delhi cannot be called right.
On the other hand, Delhi BJP working president Virendra Sachdeva accused the Aam Aadmi Party of conspiring to defame Delhi at the international level and said that today again the deceitful face of the Aam Aadmi Party has been exposed in front of the people of Delhi and the people of Delhi should see this. I am shocked that the man Harish Chandra Suryavanshi, who was accused of molesting Delhi Commission for Women Chairperson Swati Maliwal, is actually a prominent AAP worker from Sangam Vihar.
BJP leaders released a photo claiming that in this photo Harish Chandra Suryavanshi, accused of molesting Swati Maliwal, is seen campaigning with Aam Aadmi Party MLA Prakash Jarwal.
bjp claims the accused who molested swati maliwal is an aap worker