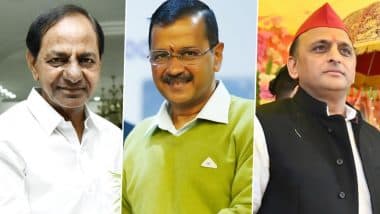 CM Chandrasekhar Rao, Kejriwal-Akhilesh (Photo Credits FB)
BRS Public Meeting: Telangana's ruling Bharat Rashtra Samithi (BRS) will hold a public meeting in Khammam city on Wednesday in which Delhi Chief Minister Arvind Kejriwal, Punjab Chief Minister Bhagwant Mann, Kerala Chief Minister Pinarayi Vijayan, Samajwadi Party leader Akhilesh Yadav and Communist Party of India (CPI) KD Raja will attend. The public meeting is considered to be politically significant as it is the first public meeting by the Telangana Rashtra Samithi after changing its name to BRS and it is also attended by various opposition parties BRS, Aam Aadmi Party (AAP), Samajwadi Party (SP) and The leaders of the Left parties will appear together.
BRS President and Telangana Chief Minister K. Chandrasekhar Rao and other leaders will visit the Lord Lakshmi Narasimha Swamy temple at Yadadri near Hyderabad, which has been extensively renovated by the Rao government, before leaving for Khammam on Wednesday. Also read: Telangana: Chandrasekhar Rao's entry into national politics, TRS renamed as 'Bharat Rashtra Samithi'
Senior BRS leader and former MP B Vinod Kumar told PTI on Tuesday that the leader would attend the inauguration of the second phase of the Telangana government's eye screening program 'Kanti Velugu' in Khammam, about 200 km from Hyderabad.
kejriwal akhilesh yadav left leaders to attend brs rally in telangana tomorrowr