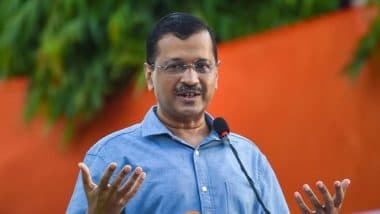 CM Arvind Kejriwal (Photo Credits ANI)
New Delhi, January 22: Delhi Chief Minister Arvind Kejriwal interacted with the teachers who participated in the training in Finland, Cambridge and Singapore at Tyag Raj Stadium in Delhi and heard their experiences. On this occasion, Chief Minister Arvind Kejriwal said that we have sent and will continue to send teachers abroad for the best training in our government schools. Today, if even 50 percent of the energy, passion and passion that is seen in our teachers is transferred to the students, then we will be successful.
All these teachers who came after seeing the education system abroad said one thing which was very special that before going abroad all of us teachers used to consider ourselves as managers but today it is not like that. We teachers do not consider ourselves as managers. We share the experiences that we have taken from there among the children, which has a great impact on the students. Also read:Delhi: Two boys killed youth for opposing snatching, arrested
Kejriwal said that "Some people in our country think that poor children study in government schools. What is the need to send teachers for foreign training to teach them. I tell you, when our teachers go abroad If we see the labs of the schools and colleges of Stephen Hawkings, then the experience of seeing those things practically is different. The experience is gained only by going abroad. Hearing or reading about the schools and education system there You cannot get such experience, for that you have to go abroad and get training and experience.
Arvind Kejriwal said that I have gone abroad only twice. I am not fond of going abroad. I want our teachers to go abroad for the best training. We have made the government schools of Delhi better than the private schools of Delhi. Now our aim and competition is that the schools of Delhi become the best schools in the world. Kejriwal said that a lot of good has happened in the field of education in Delhi. And there is still a lot of good to be done. Before 2015, schools in Delhi used to run in tents. Now the schools with tents have become schools with talent.
Earlier, water used to drip from the roof in the schools of Delhi, there was no seating arrangement, there was no security arrangement, children used to go anywhere without informing. Today there are all arrangements in the schools of Delhi. We have made the infrastructure of the schools the best. Our teachers go abroad for training. If seen in the last years, students have left private schools and come to government schools. Our teachers teach the children with full energy and dedication. And its results are in front of everyone. In 75 years, 99.7 percent results did not come within any state. Today our children are passing IIT even without coaching. Passing JEE.
Teachers who have come after learning from abroad, people consider it as an expense. I consider it an investment. I believe that build 4 less bridges, 4 less roads in the country, but give good training to the teachers. Because when the children pass out from the best trained teachers, they will get 10 more roads built.
tented schools have now become talent schools chief minister arvind kejriwal