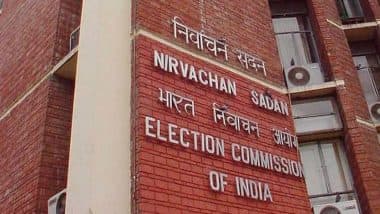 New Delhi, January 20: The Election Commission (EC) on Friday asked the state government to suspend a sub-divisional police officer (SDPO) and two officers-in-charge (OC) of two police stations, taking note of the alleged attack on Congress state in-charge in West Tripura, Ajay Kumar. has been asked to remove. In addition, the EC deputed three special observers to ensure proper deployment of CAPFs and to intensify enforcement measures. The special observers include Yogendra Tripathi (retired IAS officer), Vivek Johri (former DGP of Madhya Pradesh) and B Murali Kumar (1983 batch IRS officer). EC Action On Tripura Violence: Election Commission took action on violence in Tripura's Jirania, many officers suspended
In a notification, the Election Commission asked the Tripura government to suspend the SDPO, Jiraniya and the OC of Ranir Bazar and Jiraniya police stations in West Tripura district. The Election Commission Chief Secretary J.K. Sinha and DGP Amitabh Ranjan to explain why the situation deteriorated on Wednesday (the day of the incident) despite adequate deployment of CAPF personnel in the state.
The commission expressed its displeasure over the violent incident during and after its visit to the state despite its strict instructions. Chief Secretary and DGP were directed to ensure level playing field for all political parties on first come first serve basis and to popularize Suvidha App to handle applications of political parties for meetings, rallies, road shows.
The incident took place on Wednesday during an attack on a Congress bike rally at Majlishpur in West Tripura. In the attack, 10 Congressmen including General Secretary Kumar were injured.
The Election Commission said that the state government confirmed that Kumar suffered minor injuries in the illegal rally (the event took place in an area where permission was not granted by the district authorities) and it was not true that he had sustained serious injuries. Congress leader and party's lone MLA Sudip Roy Barman had alleged that a minister had instigated BJP workers to attack the Congress rally.
Burman told the media and urged the Election Commission to take appropriate measures in these areas – We have already told the Election Commission that out of the 60 assembly constituencies, five-six constituencies including Majlispur will be held in a fair and peaceful manner. There is no favorable condition for Elections to the 60-member Tripura Assembly will be held on February 16. The counting of votes will take place on March 2.
tripura congress in charge attacked ec orders action against 3 policemen