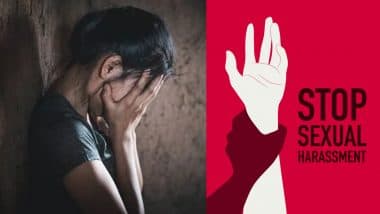 Symbolic picture (Photo Credit: Twitter)
UP Shocker: The Kanpur police has registered a case against the director of an educational institute for raping a maid in Panki area. Prahlad Bajpai, a resident of Panki, is the director of an inter college in the area. According to the police, the victim works as a maid in Bajpayee's house. The victim told investigators that when she reached Bajpai's house for work on Sunday, his wife was not at home. When Bajpayee asked her to make chaat, she went to the kitchen.
Meanwhile, Bajpayee dragged her to his room and raped her. Bajpai threatened the victim of dire consequences. Police said that he also gave Rs 2,500 to the victim and told her to keep her mouth shut. Also read: UP Shocker: Girl molested in front of fiance in UP's Prayagraj, case registered after video went viral
ACP Panki Nishank Sharma said that on the complaint of the woman, an FIR has been lodged against the school director. A police team raided his house, but could not find the house, the ACP said. The absconding accused will be arrested soon and sent to jail.
up shocker school director booked for raping maid